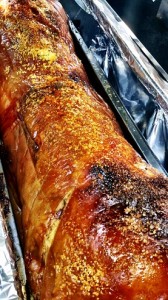 Spitting Pig Northern is an exciting and professional catering company serving the Cleator Moor area. As a hog roast caterer for Spitting Pig, I get to see first hand how we put into place a service that is first-class, and which gives good results every time. Our approach to catering is to make our method as flexible as possible so as to give the customer the maximum amount of control over their event/occasion. If you are thinking of hog roast Cleator Moor, then think of the Spitting Pig Company.
First to our hog roasts, our speciality. We have gone to great lengths to perfect this most traditional of dishes. We custom-designed all of the spit-roast machines we use to suit them perfectly to our practices, which includes using them to cook such side dishes as jacket potatoes. We designed our machines to, of course, produce mouth-wateringly good roasts – whether that be hog roasts, or another meat (our selection includes spring lamb, sirloin of beef, whole chickens and turkeys, plus barbecue favourites).
The Best Hog Roasts In Cleator Moor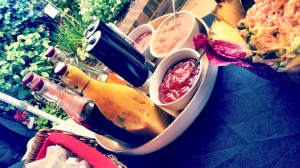 But so too our machines ensure a clean, efficient and intuitive way of cooking meat that cannot be bested. The quality of our spit-roasted meats allows us to put them at the centre of what we do, whatever the menu, one can be assured of absolute excellence at the heart of it. All our animals are sourced from suppliers and farms which we have taken the time out to ensure they have the most rigorous standards and the best condition stock. Spit-roasting is an innately spectacular sight – provide your guests with a talking point, and see them lick their lips in anticipation of getting their teeth into a nearly ready hog roast Cleator Moor.
As much as we rely on spit-roasted meats, we similarly are well used to creating bespoke, one-off menus for those looking to customise. We are pretty unique in the fact that we do not rely on set menus which we expect the customer to choose from. We provide one-to-one meetings with all our customers to get to grips with their specific demands, the nature of their event. This is perfect for those who have a specific theme or direction they want to go in, for instance weddings, themed events, or use it as a way to tailor your event to suit your company's spirit. Of course, it is also a way of ensuring your favourite dish is on the menu! Our experienced and talented chefs combined with our dedicated office staff can help make your dream a reality. Here at hog roast Cleator Moor we go the extra mile, because we know the days we cater for are often the most special for people.
Leaders In Our Field
So if you are planning a wedding, private party, charity fundraiser, festival or fair, or corporate function, we here at Spitting Pig have the experience and the know how to make every event a success. Our inbox is full of customers who loved our service, and have gone on to recommend us to friends. It's a great part of the job, getting to know the town and building relationships with the people we work for.
Another aspect of our catering service is what we call hog roast hire Cleator Moor; we rent out our spit-roasting machines at low prices, which means you can put on your very own hog roast event. We have a wide range of machines, each of them suitable for a specific task, as well as scale. We can provide you with a pig, if you do not want to source your own. We deliver and collect the machine inclusive of the price. This is a great way to trial a machine, as well as putting on your own events. Hiring is a great for all sorts of events: to make a party extra special, to provide food at a special night at a pub or local establishment, or to cater for a community event. The limit is your own imagination. Hog roast hire Cleator Moor allows you to really take control of your catering, as well as offering your guests a unique dining experience, all available at low cost to yourself. Your friends will be sure to remember any occasion you throw with a hog roast there!
As you can see, we offer a highly personal and tailored service, so it is always best to contact us as soon as possible to get the most out of our services. We never turn a customer away, so don't hesitate! Call the Spitting Pig.