Hog roast catering is a big part of what we do, but we also hire out and sell our high-tech and fully-functioning hog roasting machines for those of you who don't mind getting your hands dirty when it comes to catering for your event. The equipment we sell is to the same high standard as the machine we use for our jobs, and if people like ourselves who have extensive expertise in hog roasting use it, then it's more than adequate for everyone else who fancies themselves as a hog roast chef. If you'd like to purchase hog roast machines then visit our dedicated website.
If you're hosting a community event, such as a gala or a street party, and you want to impress everyone by showing your prowess as a chef, then hiring one of our machines is the best possible way to wow them. As the meat is on display while roasting the whole time it's cooking, it looks great and will make everyone present want it even more than they would like freshly-grilled meat from a barbecue, and it gives you scope to marinate or glaze the meat using a sauce or dressing
Take Up Hog Roasting Yourself
Hiring a machine is perfect for many different occasions other than community events as well. If you're a tourist and staying in a medium or large hotel with dozens of holidaymakers, and you want to become friends with them all, then roasting something on a hired machine is a great way to break the ice. You'll receive plenty of compliments from all those you've cooked for, as there's very little chance of messing up when using one of our machines because they're so easy to use. Having your own D.I.Y. hog roast barbecue in the spectacularly hilly environs of the Lakeland area is an experience that can't be beat, and all it takes is hiring a machine from us and buying whatever meat you desire.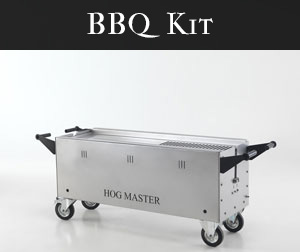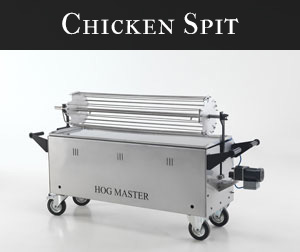 If you're a local hotelier who wants to provide more than just bed and breakfast by persuading your customers to have lunch or dinner in your hotel, then perhaps you would like to buy a hog roasting machine from us for repeated use. Although the name suggests that our machines are best used for roasting pigs, they are quite versatile.
I know you've probably heard it said an infinite number of times before, but isn't the Lake District such a beautiful place? It boasts some of England's highest mountains, lovely local towns such as Windermere, Cockermouth and Ulverston and, of course, a handful of fantastically tranquil lakes. Unsurprisingly, millions of people from the UK and beyond visit this part of Cumbria, but the area towards the Irish Sea is just as nice, and a great place for a feast.
Aside from Kendal Mint Cake, food from this part of Cumbria isn't that well known, at least until you've sampled a hog roast from us. For many a year, we have served the good people of the Lake District and the Furness Peninsula at get-togethers for families, friends, businesses and community groups, and have thoroughly enjoyed doing so.
These not only include our famous hog roasts, but you can also choose to have chicken, beef, lamb or any other BBQ food on your menu. It really is all down to you.
[+ show][- hide]