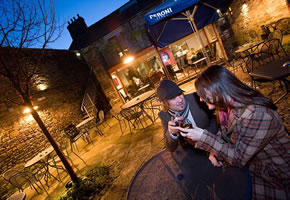 Kirkby Lonsdale is a beautiful town set within easy reach of the wonderful Eden Valley, Lake District and Yorkshire Dales National Park. With a vibrant local community throughout the area and a range of individual shops and inns, this picturesque market town is well worth a visit. Situated on the banks of the River Lune, the town offers a range of wonderful walks for all levels. Take a stroll to Ruskin's View, marvel at the impressive Devil's Bridge or picnic on the banks of the river on a hot summers day. The town centre itself is a lovely mix of 18th Century stone cottages and buildings which surround cobbled courtyards and a market square. Shop for delicacies at traditional bakers, butchers and cheese makers or browse designer jewellery in one of the unique shops. Surrounded on all sides by stunning countryside and two National Parks, Kirkby Lonsdale is a wonderful place to visit.
You can also enjoy locally sourced, traditionally cooked meats with a hog roast Kirkby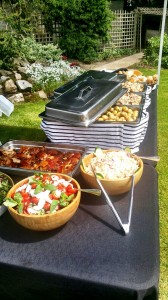 Lonsdale. If you are thinking of holding an event or party and have thought about having to cater it yourself but then had doubts about not satisfying everyone or not being able to enjoy the event yourself and having to rush around for hours making sure you haven't burnt the sausage rolls in the oven then a pig roast Kirkby Lonsdale style could be just the answer you are looking for. Kirkby Lonsdale hog roasts have been supplying the people of Kirkby Lonsdale and Cumbria with some of the tastiest, juiciest meats for over a decade with a professional chef that caters every event and a catering assistant that will come along to help prepare the freshly made apple sauce and home made stuffing with our special recipe and to also create the salads and side dishes fresh on site. When it comes to the more complex menus with things such as real crockery, canapes, puddings and even starters we always supply more staff and the price you are quoted for your menus is always the only price you pay all staff and travel costs are included in this price so you have nothing to worry about we have no hidden extra charges the amount of staff we supply with our menus is always more than enough so that your special event is sure to run smoothly.
The Best Hog Roasts In Kirkby Lonsdale
Weddings, birthdays, beer and music festivals, christenings, family get together and corporate events, we've catered them all. The success of a hog roast Kirkby Lonsdale lies in its simplicity, nobody is tied to the kitchen, everyone can relax and the meat simply looks after itself as it slowly turns on the rotisserie over the flames, roasting to perfection. Kirkby Lonsdale hog roast caterers supply, set up and clear away all the equipment so there is never any fuss or any mess.
When it comes to hosting a hog roast Kirkby Lonsdale event, you can choose whether you want Kirkby Lonsdale hog roast caterers to do a little or a lot. You may wish us to simply supply the hog and the hog roast machine for you to chef and carve yourself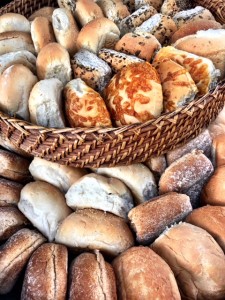 when we offer the hire option out to our guests we are also able to place the pig in the machine and light the machine so all that is left for you to do is wait around six hours for the meat to cook and carve the meat once it is ready or alternatively, you might want us to supply all the equipment, chefs, catering staff, cutlery, breads and sides.
The choice is completely yours and we have a range of packages to suit all party sizes and budgets. We can supply any size of marquee, advise on menus and size of hog roast as well as suggest and liaise with local venues and put all arrangements in place to make your event a resounding success. All Kirkby Lonsdale hog roasts are locally sourced from quality farmers with animal welfare placed high on our priority list. The hog roast is always delivered fresh to your event on the day and cooked from fresh through to delicious golden brown right in front of your eyes.
Kirkby Lonsdale hog roast caterers have years of experience in the hog roast industry and have built an enviable local reputation for service and quality. A hog roast makes a superb centre piece for any event or party and is sure to be the talking point of your guests and friends for many years to come.