Welcome to Spitting Pig, on our website we aim to outline our most famous, respected hog roast services, as well as some newer lesser known services that we're hoping you'll love just as much.
Spitting Pig just keeps on growing. We have more clients than ever before and work at larger, more prestigious events than ever before.
Thinking fast, and so as not to be overwhelmed by a growing demand, we've grown our own services over these years, improving and building a growing stockpile of hog roast machines and equipment – and aquiring a pig roast Ambleside style that's compromised of skill, good nature and an all together unbridled dedication to our hog roast mission. We're always making sure we're one step ahead of the demand, so that we can cater for all events that come to us, from humble back garden parties between a few friends to the big events on our calendar with thousands eating a hog roast.
The Best Hog Roasts In Ambleside
Iff there's one thing that we do as good as talking up the sizzling hog roasts we make, it's actually making them. The combined decades of hard graft in the hog roast Ambleside and catering business has seen us develop an expertise that quite frankly can't be touched by anybody else. The hog roast experience that we give to clients makes us life long favourites, clients and guests alike leave under a culinary spell, leaving them longing for another Spitting Pig hog roast. We drew the blueprint, built and furnished the h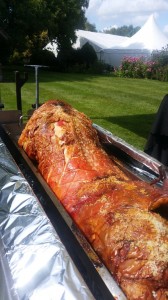 og roast house that so many are now trying to get their foot in!
Let's say that you're organising a birthday party, but you don't want too much happening, just something that's uncomplicated but succulent and fitting for a small party. Then for you Party menu 1 and Party Menu 2 would suit your event and budget perfectly. Menu 1 is a hog roast, spit roasted or tray roasted, combined with our own stuffing, apple sauce and pig crackling on bread rolls. Menu 2 is like menu 1, spit roasted meat on bread rolls, only this time you get to pick which spit roast meat out of the many we offer.
That's a simple, albeit classic hog roast Ambleside menu, that's suitable for not just run of the mill birthday party's, but for any event. As the menus go higher in number so too does the number of dishes, not to mention Spitting Pig catering services that comes with it. Menus 4 and 5 are filled to the brim with foods, from canapes to spit roasts to desserts, the menus respectively are designed to be served as a buffet or for a sit-down event. Imagine having not just a huge hog roast feast for your grand event, but also getting a professional catering outfit who'll wait on your guests hand and foot, greeting guests with the front of house service, or pouring drinks for your guests from the drinks bar service. With the Spitting Pig team involved with your event your guests will feel like they're in a world renound restaurant.
Leaders In Our Field
Spitting Pig brings with us to your events an excitement factor that is often missing as far as event foods go. It's hard to get excited when you're at your 2nd wedding party of the year and breadsticks, pickled onions and ham sandwiches are on the menu – and by menu we mean a paper plate! With a hog roast or spit roast from Spitting Pig your guests will be buzzing with anticipation, the presence of a whole hog roasting really sets the stage for a successfull, entertaining event.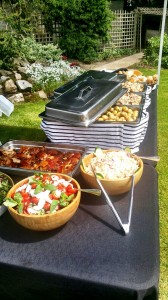 People really do seem to love a hog roast, even if we're not there in person cooking and serving it, folks still can't get enough of a spit or tray roasted pig. Even if we're not there in person though, we still have ample presence at many hog roasts in the area. We maintain a Spitting Pig presence by hiring to people our Spitting Pig machines. The hog roast hire Ambleside service is another wonderful hog roast option.
Hog roast hire Ambleside sounds simple and that's because it is simple. As simple as calling us, booking a safety assured hog roast machine for a set period and then having it delivered on the date. Once with you, you'll have the power and information needed (we'll show you on delivery) to make a real, authentic hog roast treat for whoever it may be, friends, family or customers.
We'll discuss at length our services if you'd like to call or email, in the mean time you can gather more information on our website.