Cumbria's Best Hog Roast Caterer
We consider ourselves to be the finest hog and spit roast caterer in the whole of the Lake District, Cumbria and beyond. Over the years we have heard many times how fantastic our roasts are and the truth is you really won't know until you try one! Don't underestimate a Spitting Pig Hog Roast as it really will be the best hog roast you have experienced. My name is James I am the owner of Spitting Pig Northern UK, my family run business has excelled through the years and with nearly 2 decades in the catering industry you can be confident that you are in safe hands.
Here you will find all you need to know when it comes to booking your next event with us (either by phone or through our simple enquiry form online). Different from any other catering firms, we offer our clients something truly unique and memorable.
Growing in popularity and in size, our decades in the hog and spit roasting industry has been a voyage of discovery, as it has allowed us to cater at thousands of events across the region. Getting to know all the local suppliers and businesses, it has truly been a pleasurable experience indeed. By offering our unique style of event catering, which is the hog roast Cumbria whole roasted pigs and lambs done in front of you and your guests very eyes, we offer a restaurant beating cuisine experience at a fraction of the cost. We are very lucky to have a wealth of great local produce right on our doorstep.
Hog Roast Lake District

Having a catered event at home is a growing phenomenon across the Lake District. It allows people to have an event in the comfort of their own surroundings whilst avoiding ever increasing restaurant costs. Whilst many standard forms of catering providers seem to have stalled, we have certainly led from the front when it comes to cuisine; as the increased demand for freshly roasted meats and food in a rustic style has never been more popular than it is today. Through the increased awareness of food quality (arguably aided by the rise of the 'Celebrity Chef'), our services have never been more in demand.
Our catering services naturally centre on having a hog roast in the Lake District. You can choose from a whole variety of freshly and ethically sourced meats. Our whole pigs are a favourite, and their crackling is the golden, crispiest and most bubbly that you will taste. By choosing our whole spring lambs, you are entering a 'foodie' heaven – as the slow flame roasting process simply adds and adds to the melt-in-the-mouth effect which lamb has already in abundance. Particularly popular, the use of whole chickens and turkeys is a great crowd pleaser and can satisfy the masses with ease (our specially marinated chickens can be put onto our flame-roasting spits 35 at a time – a stunning spectacle indeed). Along with this, we roast loins of beef as and how you like it.
Proud To Provide The Best Hog Roasts In Cumbria
Our catering services give our clients so much more than just food; they are draped in theatre which people simply love – from the young to the old. By offering a sensory experience every time we serve, we not only give our clients the best tasting meat they've ever had, but we do it at a reasonable price and in a manner which befits our professionalism. Able to cater in absolutely any location due to our use of state of the art machinery, we give our clients the freedom to have their event where they want it and when they want it. By keeping at the forefront in term of skilled chefs, great produce and a un-parallelled dedication to getting everything just right – we know that an event with us as the caterer is the best thing you've yet to do.
Spitting Pig Northern UK is a family run catering company that is happy to provide a range of hog roasts in Cumbria for memorable events from a small private party to a large formal event. We are at home providing one of our locally reared pigs to be slowly cooked resulting in a unique succulent hog roast bun to providing a full complement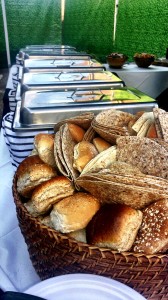 of staff to serve reception drinks etc prior to being served one of our comprehensive wedding menus. Whatever the occasion may be, one of our menus will usually suit but we also accommodate for a bespoke package that is specific to your requirements.
Although as our name suggests we are a hog roast catering company we quite regularly provide and cook an array of options such as fell-bred lambs, English reared chicken and turkey or you always select one of our slow grown beef joints any of these meats can be served in any combination or you may indeed prefer a fresh seafood selection (supplied by our own companies) and we supply a selection of home-baked vegetarian options to complement any of our menus. One the many benefits of using hog roast Carlisle is that we are self-sufficient in that you do not need to worry about providing serving tables, crockery, cutlery or providing shelter and waste facilities as we do all this as part of our service which leaves you with the most important part and that is enjoying your day!
We take over prior to your important day and make sure that the numbers, menu and location remain unchanged and if required alter things to suit which means that on your special day we arrive in plenty of time to set up and freshly prepare and cook your chosen menu and have sufficient experienced staff in attendance to ensure that the service runs in a smooth efficient manner. On completion of service we then quietly clear away and leave your venue as found for you to enjoy the rest of the day.