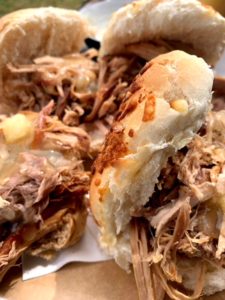 Whether you have a special occasion coming up or you are planning a fun-filled family celebration, the Hog Roast Blackpool have the expertise to provide the ideal catering experience for your event. We are the number one hog roast provider in and around Blackpool and we are continually developing our menus to ensure our food is ideal for all tastes, diets, budgets and occasions.
We have the ability to cater with ease in any type of indoor or outdoor location for any number of diners, thanks to our versatile catering team and state of the art cooking equipment. It doesn't matter to us where we are catering or how many people we are cooking for, we always make every element of our menus from scratch on-site using the finest locally sourced produce available, including our ethically-reared meat, free range dairy products and organic fruit and veg.
Great Food for all Occasions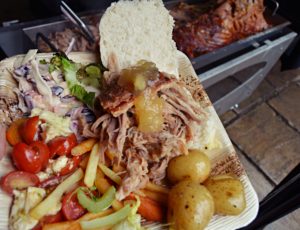 From our trademark hog roast sandwiches served with crispy crackling and homemade apple sauce to our colourful, varied buffets and refined 3 course meals, the Hog Roast Blackpool team can do it all. We offer a tempting selection of different slow-roasted meats if you would prefer an alternative to pork or a second meat option, as well as a range of meat, dairy and gluten-free dishes to ensure we take the diverse dietary needs of our diners into account.
If you need catering for an extra special occasion, such as your wedding reception, we can provide an elegant canape welcome reception, with our own front of house staff on hand to greet your guests and whet their appetites with platters of our individually handcrafted canapes. Our talented events team can also provide full table service throughout the rest of your meal and will take excellent care for everyone from start to finish.
If you have any kind of event on the horizon in the Blackpool area and you love the sound of our varied menus, fabulous ingredients, commitment to quality and our adaptable approach to catering, get in touch with us here at Hog Roast Blackpool today to discuss all of your catering needs.