When you're planning a special occasion where you want delicious food to be featured, you'll want caterers you can trust, who know how to make sure that everyone invited gets to enjoy dishes made out of fresh, high-quality ingredients. With Hog Roast Tunstall, you get this and so much more. Our highly-trained, accomplished experts always go the extra mile for our customers, regardless of the type of party or event we're attending, no matter its formality or the number of people invited, and we have a great array of options available to ensure that special diets, varying personal tastes and bigger appetites are all covered.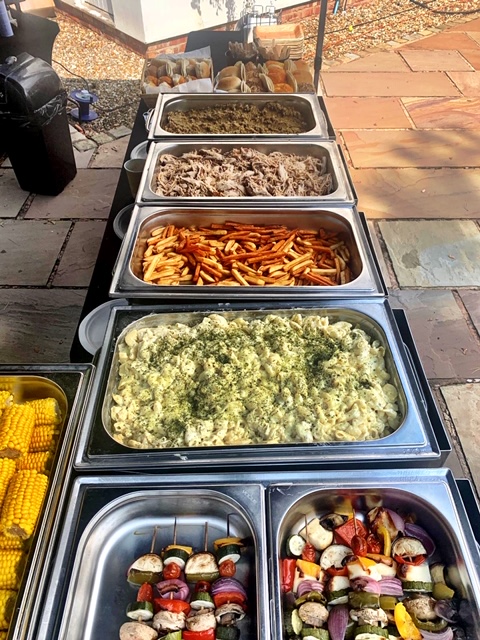 A Hog Roast Tunstall feast will be the highlight of your party, and that's whether you ask us to slow-roast a hog for hours on end in order to make pigs in buns or a plated meal, or if you ask us to provide different options. From spit-roast turkey, chicken, lamb or beef to our special menus like our Southern Slow Roast and Loaded Fries, your carnivore guests will certainly be wowed and with alternative mains like veggie skewers, homemade mac and cheese and quiche, so will any vegetarians. We can cater any other special diets, too; just let us know your needs in advance and we'll make it happen.
In terms of additional options, Hog Roast Tunstall can serve starters, sides, desserts and canapés and we can help you to create your own menu if preferred or you can mix and match items between our existing menus. It would be our pleasure to cater for you and your guests, whatever delicious dishes you choose.
For a wedding anniversary celebration that we catered on Saturday, we were asked to make our famous pigs in buns but our customer let us know she needed a gluten-free option too. When we told her that our pigs in buns can easily be made gluten-free, just by taking along gluten-free bread rolls and wraps, she was elated, as it meant her husband could enjoy them just like everyone else. On the day, everyone invited got to eat scrumptious food and by the end of service, the hog had been stripped clean.