Winter is the ideal time of year to enjoy a lovely, homemade, warming meal, even if it is outdoors in the chilly air, and especially so if this is a hog or spit roast. Hog Roast Brampton can warm you and your guests up from the inside out with succulent, roasted meat, perhaps accompanied by your choice of potatoes and seasonal vegetables, all smothered in our own homemade gravy. Or maybe you'd prefer our amazingly moreish pigs in buns served to you and your guests, once we've roasted the meat from scratch for hours on end? Or how about fresh-off-the-barbecue ribs, burgers and sausages cooked to perfection and served with various side dishes to warm you up and tickle your taste buds at the same time? Whatever you have in mind, Hog Roast Brampton do it with style.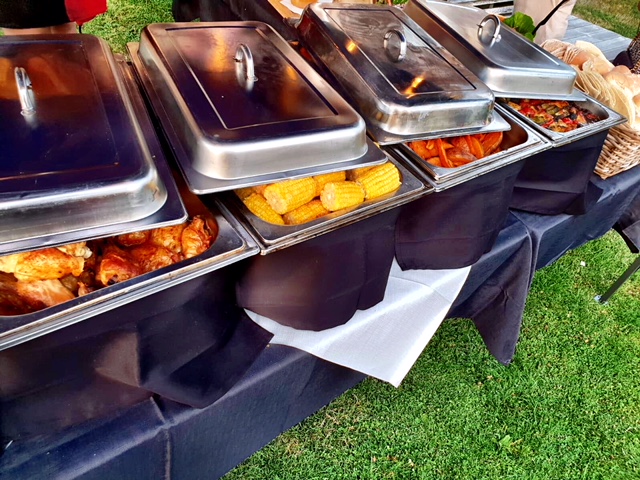 For a birthday party that we catered locally recently, we were asked to bring our A game with our popular Southern Slow Roast Menu – a warming feast of several marinated types of meat and side dishes, as well as a vegetarian option if needed. This menu in particular is a fantastic way to ensure that your guests' personal tastes and dietary needs are covered, as it has something for everyone, because even if you need another diet catering other than vegetarian, we can do that too, just like we did for this party.
When Sally called us to book us in for her husband Bryan's birthday meal, she asked us to cook the Southern Slow Roast Menu for most of the 35 guests and an additional vegan option for one. While our vegetarian option included with this menu is our veggie skewers, with halloumi and vegetables, for vegans we can grill them without the cheese. However, most of the guests would be enjoying pork, sticky ribs, and chicken, accompanied by corn on the cob, sweet potato wedges, coleslaw, and mac and cheese.
On the day of the party, Hog Roast Brampton arrived at the home venue several hours before service and slowly cooked the marinated meat dishes for hours, until they were all soft and tender. Together with the delicious sides and vegan fare, we cooked up a storm and satisfied all of the hungry guests, and all of the plates came back licked clean.