When you have an allergy or dietary requirement, it can make eating catered food more difficult. Often catered food comes without a list of ingredients or nutritional information- so it can feel risky to enjoy the meal presented to you. However, this is not the case with Hog Roast Ireby! We offer inclusive catering for all, with a menu option to suit any allergy or dietary requirement.
When booking your catering with Hog Roast Ireby, it is important to let us know if your guests have allergies or dietary requirements, as this gives us plenty of time to create a suitable menu. If your event is for guests that you do not know personally, we suggest including a dietary requirements section on your RSVP slip, so you can get a clear idea of which accommodations are required.
Here are just some of the alternative arrangements that we can provide.
Allergens
Hog Roast Ireby can cater for all major allergens, including dairy and gluten. Where bread rolls are served, gluten-free rolls can be provided upon request. For other allergens, we can create a dish/dishes that are free from that ingredient, to ensure that they are safe to eat. These dishes can also be prepared and stored separately to reduce the risk of cross contamination.
Vegetarian/Vegan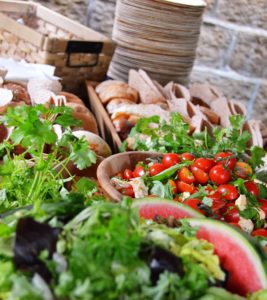 We have an incredible selection of vegan and vegetarian dishes. You can enjoy the majority of our side dishes and salad options, as well as some speciality main courses. One of our most popular options is BBQ pulled jackfruit, which is served with a fresh jacket potato and crispy salad. You can also choose our grilled vegetable skewers, which are an incredible Greek-inspired main course.
Hopefully, this blog post has shown you that Hog Roast Ireby have a dietary accommodation to suit the needs of every possible guest. If you have a requirement not listed here, simply get in touch with our team and we will see what we can do to allow you to enjoy our delicious catering!