Cocktail parties are a great way to enjoy an evening of style and luxury, with a formal dress code, excellent drinks, and delicious food. At Hog Roast Caton, we have several different options for catering an event like this one, although our canapes course is always a great addition to any menu. Here is what you can expect when you book in with our team today…
Ella and her husband met while at secondary school and are still close to all of the friends that were part of their group. In the twelve years since school, their interests have changed, but they are still as close as ever and enjoy meeting up as often as possible. This August, Ella planned a cocktail party to take place at her home, with the addition of catering from Hog Roast Caton. After discussing catering options, it was decided that a canapes course would be an ideal way to begin the event, followed by a hog roast later in the evening. Once the menu was finalised, Ella got to work on creating a cocktail menu that would be a great accompaniment to the food.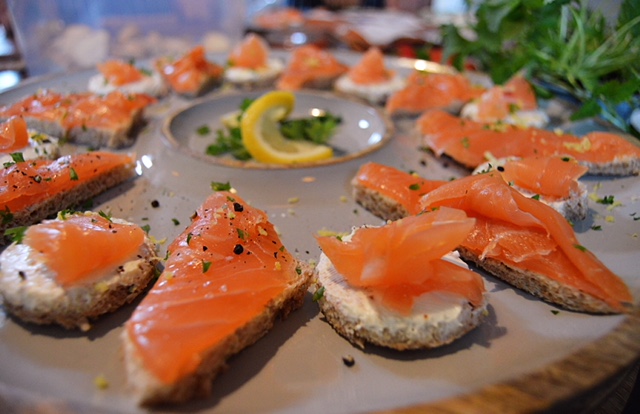 On the day of the party, the Hog Roast Caton team arrived at Ella's home in the afternoon and began to prepare the catering for the 8:00pm start time. We began our menu by serving a selection of canapes as the guests arrived. The dishes included mini fish and chips, an Indian selection, fresh salmon, and indulgent duck breast. This was a great way for the guests to enjoy a variety of dishes without filling up before the main meal and the dishes were great when paired with the variety of cocktails that Ella had selected.
For the main meal, we served a classic Hog Roast Caton main course, consisting of a slow-roasted hog, roasted baby potatoes, and all of the trimmings. This went down successfully with the guests and was perfect for soaking up the alcohol before another round of drinks was served!
To find out more about Hog Roast Caton's catering packages, simply let us know your party size, date, and location and we can do the rest. We hope to hear from you soon!