Hog Roast Garsdale is well-known as long-time providers of fresh, wholesome, tasty food, making sure over the years that all kinds of informal and formal parties or events are catered in style by dedicated professionals who love what we do. We're not happy unless you are and this starts with us offering various menus to suit all kinds of wants and needs, including both personal tastes and special tastes, as well as bigger appetites.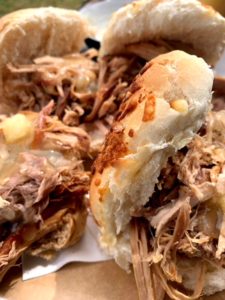 You may be planning a casual meal for a small group of people in your back garden with just our scrumptious pigs in buns as the main feature, or at the other end of the scale, you may be organising a posh do with an intricate menu of several courses, preceded by a serving of our handmade canapés and ending with a choice of our homemade desserts. Either way, or anything else you can think of in-between, Hog Roast Garsdale is the best choice you can make, as we ensure that our customers and their guests are our priority and we always go the extra mile to make everything we cater a great success.
Hog Roast Garsdale recently catered an informal party for Darren, who had asked us to cook a traditional centrepiece hog roast at home in his back garden, to make pigs in buns for most of his guests to celebrate his 40th birthday. Having enjoyed our version of hog roast rolls in the past, Darren knew that it would be the best food to serve to most of his thirty guests, but he also needed a vegetarian option for two. We have plenty of delicious options for all kinds of diets, and for vegetarians, this includes stuffed peppers or mushrooms, quiche or mac and cheese, but our most popular vegetarian choice to serve is our veggie skewers. Packed full of halloumi, mushrooms, tomatoes, peppers, red onion and courgette, we grill our skewers and then serve with pitta bread and a Tzatziki dip and they tend to be devoured as quickly as our pigs in buns.
On the day of Darren's milestone birthday, our chef and catering assistants cooked up a storm and satisfied everyone's hunger with scrumptious food, made fresh and served until everyone was full.