When Hog Roast Grange Over Sands caters for your party or event, it's always with style, regardless of the formality of your special occasion. We cater both casual get-togethers and posh affairs, and everything else in-between, so no matter what you have in mind, we have various menus to suit your guests' palates while wowing them at the same time.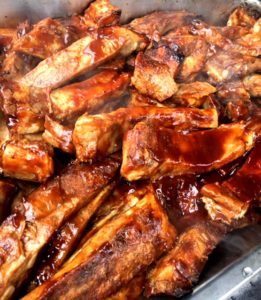 In terms of our menus, we have plenty of choice and variety and we're happy for our customers to mix and match items between them in order to create the perfect menu. If you need options for special diets, like vegan, plant-based or gluten-free, for example, we can certainly provide suitable dishes that are just as tasty as our hog and spit roasts. What's more, we have additional alternatives to our hog and spit roasts, like barbecued or marinated meat, and we can provide multiple courses, hot or cold side dishes and even handmade canapés. The choices are endless with Hog Roast Grange Over Sands at the helm!
For a party that we catered over the weekend, we were asked for our Southern Slow Roast Menu to feed forty guests at a housewarming. When Jamie asked Hog Roast Grange Over Sands for this amazing menu, it was after hearing great things from one of his colleagues who had enjoyed it recently. This particular menu gives you and your guests lots of different dishes, including three main meats, four sides and even a vegetarian option if needed, so it's sure to please everyone invited.
With the Southern Slow Roast, you choose three from beef brisket, sticky pork ribs, pork butt, spiced lamb and spicy roast chickens, each of which is roasted low and slow on the day, then four from a selection of hot and cold sides. For his party at home in his new back garden, Jamie asked us to cook ribs, lamb and pork, sweet potato wedges and mac and cheese, and to prepare two salads.
On the day of the housewarming, our team cooked a tasty feast and served the meat and hot sides together with coleslaw and a tomato and mozzarella salad, as well as plenty of fresh bread rolls, and by the end of service, everything had been devoured with relish.