It's true, Christmas is the most wonderful time of the year! But if you're on kitchen duty, it can also be one of the most stressful…
Finding the time to cook an excellent turkey dinner between all the last-minute gift shopping, present wrapping and all the other preparations can result in a build-up of stress and worry ahead of the big day. So, while you should be relaxing and rocking around the Christmas tree with a glass of mulled wine in your hand, you might instead be trying to juggle a million different tasks at once, which can be overwhelming, to say the least!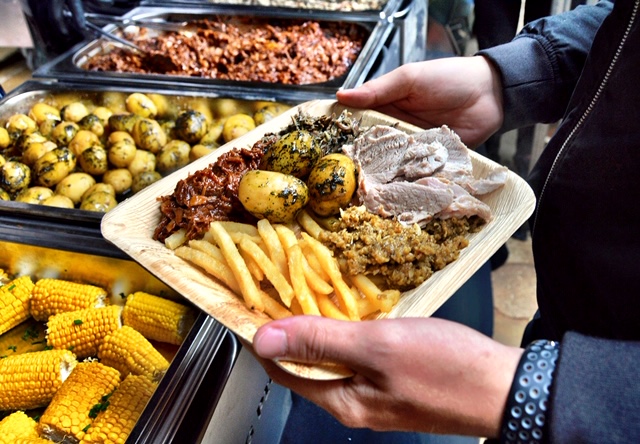 We've all been there – or at least know someone who has – and it can really take away from the overall festive experience. But that's why Hog Roast Grassington is here, to diminish your woes by providing a fully professional catering service, allowing you as the host to enjoy a completely stress-free celebration. Now, doesn't that sound more like it?
Nicola certainly thought so, and after discovering Hog Roast Grassington, she placed a Christmas Day booking with us, without a moment's hesitation! Our festive menu, with its mouth-watering descriptions, had immediately won the client over, and after weighing up her choices between a pork and turkey dinner, she eventually decided on the latter.
Offering a juicy rotisserie-cooked turkey with cranberry sauce and sage and onion stuffing, along with accompanying dishes of homemade cauliflower cheese, pigs in blankets, roast potatoes and seasonal veg, plus mince pies and brandy butter for pudding, this menu provides the perfect festive experience that Nicola's guests will be able to look back on with fond memories in years to come.
As a first time client of ours, Nicola has also been so appreciative of our team who have been on hand to answer all of her questions throughout the entire booking process, absolving any of her lingering worries. And as of now, she's beside herself with excitement for the holiday feast, which Hog Roast Grassington will present to her and her loved ones on Christmas Day. Let the good times roll!