Alice and James hired Hog Roast Maryport for their daughter's seventeenth birthday party and were impressed by its complete success. They were having a house party for their daughter but wanted to keep the party outside as they didn't want their teenage guests to destroy the house! They had also just bought her a brand new car as a surprise birthday present so they wanted to keep the party budget to a reasonable price. They were delighted when they came across Hog Roast Maryport and booked them straight away.
Once the garden was full of guests, Hog Roast Maryport arrived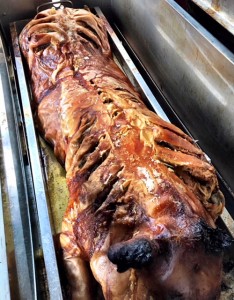 and began cooking up a feast for everyone. The smells of the hog roast had all the guests drawn in and keenly waiting for their buffet. With cocktails being passed around and the food being dished up, everyone was well pleased by the catering from the friendly Hog Roast Maryport team. The fantastic food was more than enough to cater for all the guests and their amazing organisation means that if you receive a couple more guests than what you were expecting, they can easily adapt and cater for all your guests, ensuring that no one leaves disappointed.
As the empty plates were cleared away, Alice and James prepared to reveal their surprise present to their daughter. She was overwhelmed to see her brand new car and was very thankful for her party. The evening went extremely smoothly and they were very happy with the food provided.
Therefore, the Alice and James would recommend Hog Roast Maryport for anyone wanting to host a large party, at their own house or another venue, in order to cater for large numbers of guests in a short space of time and ensure that no one comes
away disappointed. The team can also ensure that the food is always fresh and tasty and there will always be something for everyone on offer. They will make any event special and ensure that you, as a host, can concentrate on your own party and don't have to worry about catering for your guests.