Here at Hog Roast Ulverston we are always inundated with enquires about where people can get their hands on one of our hog roasting machines to be able to cook their own hog roast, and the answer is directly from us! Hog Roast Ulverston offers machine hire for private events or even to caterers who want to try their hand at the art of hog roasting. We will talk you through which of our machines would be most suited to your needs depending on factors such as the number of guests and your culinary experience. We will then invite you to take part in a hog roasting master class whereby we show you the ropes and how to produce perfect hog roasts every time. Finally, we can also supply you with the meat you will need to ensure you have everything you need to make your event a success!
This weekend we were hiring out one of our Hog Roast Ulverston machines to a lovely couple Lisa and Tom. They had hosted a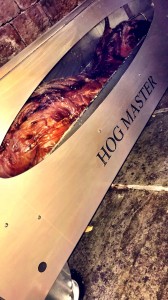 couple of Hog Roast Ulverston events in the past and their guests had always been impressed but this time they wanted to take it one step further by cooking the roast themselves and we could certainly help them with that! After showing them how to use the machines and explaining that really the machine does all the hard work for you it's just a case of checking the meat every couple of hours and making sure you score it to produce that delicious crackling. Lisa and Tom were by this point just so excited to be able to cook their own roast and delighted at how easy it would be as they had been expecting to struggle with the process. We reassured them that should they need it we are always just a phone call away and will be happy to offer any advice or recipes in the run up to their event. Happy hog roasting!!