With Halloween and Bonfire Night coming up in the near future, why not plan something altogether different for your party and give Hog Roast Newby Bridge a call? We have so many options to choose from that you and your guests will all be spoilt for choice, including hog and spit roasts, barbecued or marinated meat for the carnivores and plenty of dishes to suit dietary needs, like vegetarian, vegan and gluten-free. Plus we have a great multitude of additional options available too, like hot and cold sides, canapés, starters and desserts, so you can be sure that everyone's palates and appetites will be catered on the day.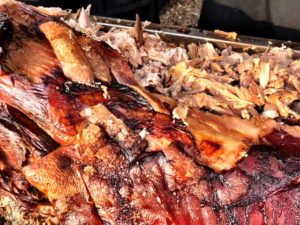 Hog Roast Newby Bridge recently catered a birthday party for Phil, at his home in the back garden, where we roasted a hog for hours on end in order to make luscious pigs in buns for him and most of his twenty guests. However, when we first talked to Phil, he was concerned about needing a vegetarian option served. With our professionals at the helm, there's no need for concern, so we told him all about our various veggie possibilities, such as quiche, stuffed mushrooms or peppers, mac and cheese and veggie skewers, and he decided on the latter. With chunky halloumi pieces and several fresh vegetables, this is a fantastic choice for your vegetarian guests that comes highly recommended by many of our customers and their guests.
It came round to the day of Phil's 50th birthday on Saturday and our Hog Roast Newby Bridge chef and catering assistant arrived at his home early on in the afternoon, armed with one of our trusty hog roast machines and a medium-sized pig that would provide piles of meat and crackling to fill the fresh bread rolls with. Once we had prepared the meat, we watched over it for ages, to ensure it cooked through and through, and hours later it was time to freshly make the skewers and grill them.
By teatime, we had carved up the hog and made dozens of gorgeous pigs in buns, together with our own apple sauce and stuffing, and plated up the tasty skewers, and it was finally time to serve the great feast.