Hog Roast Shap is often asked to cater large events, like wedding receptions with hundreds of guests and corporate functions with even more, but if you're planning a smaller gathering, we can still cater just as easily. You may be organising an informal birthday party with just a few friends, or a small christening party with just close family, or something altogether different, but regardless of what it might be, our expert chefs and catering assistants will work just as hard to make your special occasion just as special.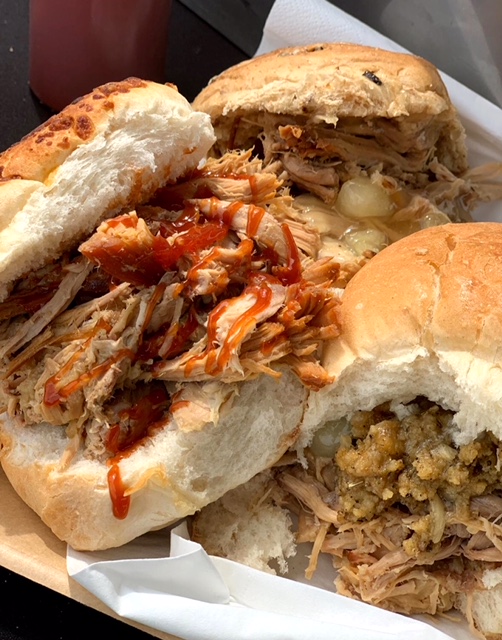 When it comes to providing the food that you want to be featured at your party or event, our Hog Roast Shap professionals can work together with you to create the menu of your dreams, and we have much more on offer than you might have first thought. We can make you piles of pigs in buns or a plated meal from one of our traditional centrepiece hog roasts but we can also do so with a spit-roasted meat instead if preferred, like beef, lamb, turkey or chicken. We can cook you our amazing Southern Slow Roast Menu, which gives you your choice of three meats and four sides, a winter warmer with your choice of meat, seasonal vegetables and potatoes, or we can make sure that any of your guests with dietary needs have their own main too. Plus with fresh, handmade canapés, starters, desserts or sides, all kinds of appetites and personal tastes can easily be catered too.
Hog Roast Shap recently catered Nathan's poker party at home, where our chef prepared and cooked a hog roast to make pigs in buns for eight people in total. Nathan had called us a while back, not sure if we would be able to cater for him, with it being a small group of people, but we can and did, and our chef created a culinary masterpiece that was loved by all the guests and Nathan himself. Once the meat and crackling had been carved off, chef filled soft bread rolls and wraps with both, added our homemade apple sauce and stuffing, and the guests feasted on them until they were all completely satisfied.