When Calvin approached Hog Roast Ullswater about catering his party at home, he was thinking about treating his guests of friends and family members to a scrumptious hog roast that we would make pigs in buns from. When we do this, we prepare the high-quality, locally-sourced meat from scratch at your venue so it's nice and fresh, cook for ages until we get moist and tender meat and a crispy, browned outside, and then serve the meat and crackling at the optimum temperature inside fresh, floury bread rolls and wraps, topped off with our own homemade duo of sage and onion stuffing and apple sauce…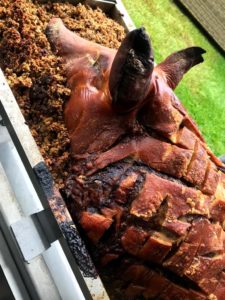 Sounds amazing, right?! Nevertheless, Calvin was concerned about any guests who might prefer to eat a different meat or in case there were any dietary needs, so he went away to find out and then came back to us with a plan. When Calvin called us back, he said most of his forty guests loved the idea of enjoying our famous pigs in buns, but there were two guests who needed a vegetarian option. We've spent years making sure that everyone invited gets to eat at our customers' parties and events, and our dedicated chefs can easily whip up something special on the day, as long as we have advance notice. We told Calvin about our various suitable choices, such as stuffed mushrooms or peppers, Spanish quiche or mac and cheese and he booked us in for our highly popular veggie skewers as well as our traditional Hog Roast Ullswater hog roast.
On the afternoon of Calvin's party, our Hog Roast Ullswater chef and catering assistants set up our trusty equipment in his large back garden and got to work preparing the meat. As it takes hours to roast a hog to absolute perfection, we soon got cracking.
Later on in the day, while the hog was sizzling away, we freshly prepared the veggie kebabs, by adding chunks of halloumi, mushrooms, tomatoes, peppers, red onion and courgette to skewers and grilling at a low heat. By the time they were done, the hog was resting and waiting to be carved and Calvin and his guests couldn't wait to dig in.