The Christmas and New Year festive period proved to be a busy time for the Spitting Pig Northern UK team. We had a private party to cater for a group of Lake Districts Hoteliers which has become an annual event where we serve a selection of our meats – Beef, Pork and Lamb, which is accompanied with a few of our 'special salads' with New Potatoes. Our hire service was also kept busy with machines and whole pigs being delivered.
New Years Day saw us catering at a new venue – The Waterhead Hotel.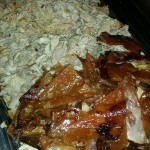 We provided a whole hog roast in Waterhead and carved it for the guests to be part of their New Years package. It went down a treat! This Hotel is a lovely little place if you ever fancy a hog roast in Waterhead! January and February's diary has several appointments from clients who are taking advantage of our free consultation service which usually entails clients being welcomed to our home to discuss their wedding menus etc.