October and November has seen no let up for the Spitting Pig Northern UK team and as the year draws too an end we manage to squeeze a few jobs in that we perhaps wouldn't have time for in mid season, for example on the 19th November I did a DIY hog roast near Halton, a job at a popular Railway and Social Club, which entailed delivering a cooked pig and after a quick demo on carving etc  – I left the customers to enjoy the hog roast in Halton themselves, by serving their friends and family to a tasty treat – als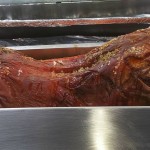 o on Saturday we were at the British Legion Club where the remit from the customer was that they would like some hot pork sandwiches or similar but had a tight budget – so we provided some delicious Shoulder Pork rolls which are cooked in our own special stock/sauce and Beef Brisket rolls which went down a treat – our beef brisket is cooked using the Sous Vide method which means we are guaranteed to end up with the most delicious and tender meat that anyone could wish for.
As well as completing our 2016 bookings we are already preparing for the 2017 season and have launched two brand new exciting  menus for 2017 – Lancashire High Tea – a menu that consists of high quality local and home cooked produce which we have already taken a booking for a wedding in July 2017 before we had even managed to add the menu to our portfolio – and a Cumberland Grand BBQ – which is a menu based on some superb products from a high quality source based in the Northern Lake District – so we now feel we have a menu too suit all occasions and budgets.
.