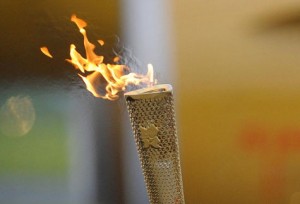 We're only a few weeks away from the London 2012 Olympic Games and we've been getting right into the spirit at Spitting Pig Cumbria. The Olympic torch relay has recently been through the county and we attended the main local event celebrating the journey of the Olympic flame.
With crowds queuing for hours to see it and live entertainment provided while they waited, it was the perfect opportunity to take along our catering trailer. The sun shone in a bright blue sky in what was one of the best days we've had this summer. It was a perfect British summer scene. There were brass bands playing, families waving Union Flags and children running around playing games with paint on their faces. And then the main event, and the inspiration of the Olympic flame. It also filled us all with great pride to see local people involved in the torch relay.
We had a busy day in our trailer and there were enough gaps in the entertainment for dozens of people to come over and enjoy our traditional spit-roasted meat. It was a hot day and, working with an open range cooker slowly spit-roasting meat, we needed a fan in the trailer. Ironically, this caused the succulent smells to waft further into the crowd (not our intention, honest!) This meant we had many people coming over just to drink in the delicious smells, though not many of them could resist buying when they saw the meat!
An elderly couple came over who didn't have the money for a hog roast bun but asked if they could have a free piece of crackling. We were only too happy to give them both a hog roast bun and crackling. The 'price' we charged was an anecdote about the last Olympic Games in England, back in 1948. The old gentleman enthralled everyone in earshot with his memories, which really brought home the Olympic experience and got everyone excited ahead of the arrival of the torch. Giving a freebie away to a lovely couple was a small price to pay for the entertainment it provided us all with.
It was a fun day all round and we packed up the trailer having sold pretty much all of the cooked meat. And it was lovely to then see that nice couple again, waving their flags to the end and still talking about the 1948 'Austerity Games' to fascinated youngsters. As we prepared to set off, it seemed only right to offer the small amount of meat and crackling left to this lovely old couple from a small Lakeland village.
The last Olympics in this country took place at a time of rationing, when the country pulled together to put on the world's greatest sporting spectacle at short notice. It was humbling to hear first hand how people supported the Olympics despite severe rationing, and coming right after the devastation of World War II.
We may be in a double-dip recession but we're lucky to be living in a time where we don't have to worry about food on our tables or clothes on our backs, like they did in 1948. We have much to be thankful for, and the look on the faces of that lovely old couple when we gave them the remaining meat and crackling reminded me of that – and absolutely made the day for me.