This winter, Hog Roast Morecambe helped the Regent Bay Holiday Park host a fantastic end of season party for their large number of caravan owners. The holiday park is part of Park Dean Resorts and they deliver a fantastic end of season party every year and they did not want this year's party to be a disappointment and so they hired the Hog Roast team to take care of the catering side of the party. Ben had organised and booked the team and he had done a great job of organising the whole celebration.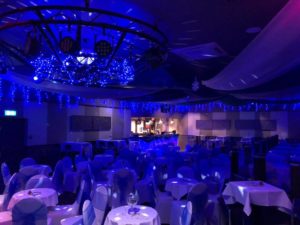 The staff at the caravan park had also done a great job of decorating the venue with beautiful Christmas blue lightening that illuminated the arrangements of tables which had been covered in fancy white table clothes and adorned with pretty centre pieces. The caravan owners were thrilled at the sight of the room and all expressed how beautiful the room looked. In addition, the staff arranged competition prizes and had decorated the venue with Christmas decorations to add a festive touch.
The Regent Bay Holiday Park had selected Menu One for their event and chosen the vegetarian skewers so that the Hog Roast would suit all of her guests. The Hog Roast Morecambe team's Catering Manager, James, did a fantastic job of ensuring that the service ran smoothly. In addition, he ensured that all the food was ready exactly at 8:15pm, when the owners had requested it, so the service of the food would fit in perfectly with the rest of the entertainment that they had arranged for the night.
The caravan owners all thoroughly enjoyed the food and the Hog Roast Morecambe team appeared to be a great choice for this event. The party was hosted for 250 hungry caravan owners and so it was essential that the team had all the food out on time and tables were not left waiting for their food. In addition, it was crucial that the Hog Roast team upheld consistency for each dish and that they maintained the quality of the food. The Christmas party was a great success and the team had a great service.