It's not too often that we have the pleasure of catering a traditional English barn dance, but that's just what we did over the weekend. The dance was held in a real barn at a country farm and it was the farm owner who asked us to provide a winter warmer hog roast Featherstone feast for the 50 guests.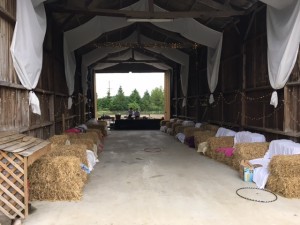 When we spoke to arable farmer Joe, he was new to the exciting world of hog and spit roasts, and was eager himself to taste a large pig that had been slow-roasted for several hours. With a winter warmer, you get to enjoy meat and veg on better quality disposable plates, and you can add potatoes and gravy if you prefer. Joe asked us to roast trays of shallots, swede, celeriac, sweet potato and butternut squash, after being sprinkled with herbs. Once done, our homemade onion gravy would be generously poured over the veg, pork and crackling and voila – a feast fit for lots of hungry dancers.
We cook the meat from scratch at your venue, and this day was no different, so when we arrived at the farm on Sunday, we were armed with a large, raw hog. Soon after, though, the meat had been prepared simply with water and salt, and was ready to cook away for around six long hours. You can't rush a hog roast Featherstone!
We continually checked that the hog roast Featherstone was cooking properly over the course of the day, and then it was eventually time to start preparing the vegetables from fresh. You can usually tell just by taste alone if a caterer uses pre-prepared veg, and we never do, so if you hire our services, you'll see us busy slicing, dicing and chopping away. These particular veggies smelled lovely once they had roasted in the machine under the hog. It's a separate area of the hog roast machine, but very handy for cooking more food like potatoes and vegetables, as well as keeping other food warm.
Once the air was full of sweet aromas of the pork, vegetables, herbs and even our homemade stuffing and apple sauce, the dancers took a well-earned break and queued up for some good old-fashioned comfort food.