On Sunday we were catering for a christening for seventy guests, we love christenings! The christening was for twins, a boy and a girl! We had catered for the parents previously with a hog roast Whitehaven for their wedding and we were honoured that they had asked us to come back and cater for this event but we find that this happens time and time again, loyal customers come back to us and tend to do a lot and when this happens we know we are doing something right.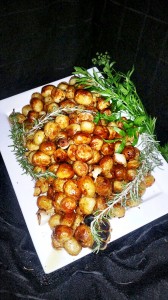 When we arrived we chatted to the parents and told them not to worry and to go enjoy the christening as we had everything covered. We were catering in a large hall with lots of room and upon arrival we began to cook. We placed rows of chickens on the machines and as the chickens cooked we began to make some stuffing we are told time and time again how delicious our stuffing is and that makes our day. Along with the chickens we made some diced potatoes and covered them in herbs and spices and set them onto cook, we them prepared some vegetable skewers simple and easy to make and very delicious. We chopped some courgette, tomatoes, mushrooms and peppers and placed them on sticks which we would cook when the chickens were just about cooked these take minutes to cook but taste amazing. When the christening party arrived we were all done and ready to serve the chickens were so moist and succulent and ever so tender guests helped them selves to the meat and stuffing and were very satisfied.
The twins were not a pick of bother and sat gurgling in their pram unaware what was going on and we couldn't help but drool over them both! A lovely day and a lovely hog roast Whitehaven was had by all and as we were leaving the couple thanked us again we said it was an absolute pleasure and it was. We cant even class now what we do as work as we all enjoy it to much, happy caterers we are.