We know that most of you are just starting to get into the Christmas spirit right about now, but here at Hog Roast Grange-over-Sands, we've been celebrating for weeks. Yes, really!
When you consider how stressful and exhausting the last year (now, nearly two!) has been, and pair it with how competitive finding a caterer in December usually is, it makes sense why so many people, businesses especially, have decided to get their festive celebrations out the way sooner rather than later this year. For our catering team, this has resulted in a busy few weeks where we've had the great pleasure of handling one seasonal booking after the other. And, as busy as we've been, everyone here at Hog Roast Grange-over-Sands has had a lot of fun – it certainly makes up for us not being as involved last Christmastime!
Among those who chose to celebrate early was the Orian Property Services staff, who held their annual end-of-year office party on Saturday, the 20th of November. Gemma, the company's Quality and Training Coordinator, had been the one to make all the arrangements, and prior to the event, she had organised a booking with us for the Classic Hog Roast Menu.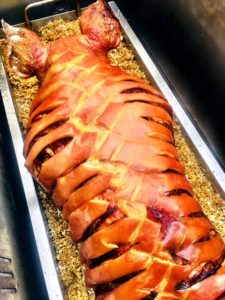 The event was scheduled to start later on in the day, so our team had all afternoon to carefully slow roast the pork in the HogMaster and prep the sides and meat-free options, too. With 60 guests to feed, Hog Roast Grange-over-Sands had used one of the mid-sized hogs for the occasion, which, once cooked to perfection, was carved by our catering manager, James.
The entire menu was executed flawlessly, and the guests couldn't have been more pleased with the final results. The crispy crackling was deliciously crisp, and the meat underneath was soft, juicy and carved like butter. The sage and onion stuffing, which had been cooked in the pork's juices, tasted divine, and the fresh homemade applesauce complemented the lot perfectly. Even the veggies and vegans couldn't get over the mouth-watering flavours of the grilled vegetable and halloumi skewers served with punchy tzatziki dip, which ensured no one was left out.