Turning 80 is a pretty big deal, don't you agree? So, as Juliet's father neared his eighth decade, she knew she had to plan something pretty extraordinary to commemorate the special day. But with so many restrictions still in place, she was lost for ideas. That at least, was until she discovered Hog Roast Bootle! As the nation's favourite hog roast catering service, we are adept at handling even the most complex of situations, and because we can serve literally anywhere, we can bring the party right to your door!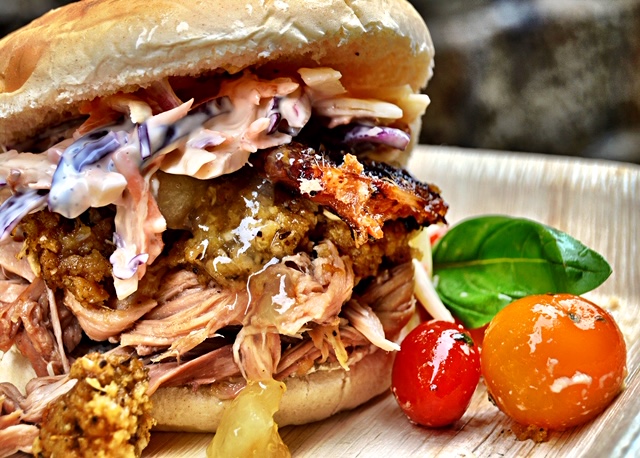 When Juliet turned to us, she soon discovered that the Hog Roast Bootle team are always happy to help wherever and however we can. But first of all, our catering manager James and assistant Jane quickly put the client's fears at ease by making suggestions on how they could serve the classic hog roast menu to the group of 25 guests while maintaining the government's social distancing measures. Juliet was so pleased with their recommendations, and thanked the catering duo for their vibrant positivity which really helped to make the whole situation feel a lot more normal!
With the wonderful platter of slow-roasted pork, crispy crackling and savoury stuffing set to be served at around 1 pm, Hog Roast Bootle's catering pair arrived at the client's residence with more than a few hours to spare. This allowed them enough time to set up the catering gazebo, cook the meat and piece together the grilled veggie skewers with optional chunks of haloumi before setting out the condiments and baskets of gluten-free rolls.
Unfortunately, despite our hopes, the weather was less than accomodating. However, both Hog Roast Bootle and Juliet were determined not to let that ruin the big day! Much to the client's delight, James and Jane maintained their upbeat and cheery attitude, which helped the event to run as smoothly as possible.
All of the guests fell in love with the food on offer. Plus, with plenty to go around, no-one was left with a growling belly by the end of the afternoon! Since the party, Juliet has been in touch to thank Hog Roast Bootle once again for making the day fantastic!