Don't get us wrong, our classic hog roasts are delicious. So delicious in fact that just one bite has been enough to convert even the fussiest of eaters into lifelong hog roast enthusiasts! But you know what they say, "variety is the spice of life", and while we're not quite sure who 'they' are, we have to agree with them. For this reason, Hog Roast Haltwhistle offers so much more than your typical spit-roasted pig.
If you take a quick scroll through our menu plans, you'll discover just how comprehensive our service really is, but to save you the time, we've detailed the basics below…
An Abundance Of Meat Options…
Did you know that pork is the single-most popular meat in the world? Yep, it's true – and probably why we love hog roasts as much as we do! But at Hog Roast Haltwhistle, we also understand the importance of being inclusive to the portion of the UK who don't – or can't – eat pig.
So, on our website, you'll find that we also offer chicken, beef, lamb, turkey and fish – all of which can be served in a variety of different ways. On top of this, all of our animal-derived produce comes from local, free-range farms where ethical treatment is guaranteed.
Meat-Free Menus…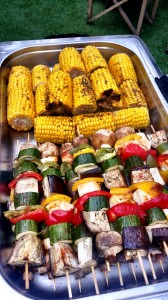 Along with our assortment of meat options, Hog Roast Haltwhistle can also offer you a selection of plant-based dishes for your veggie, vegan or gluten-intolerant guests.
With a growing demand for meat-free alternatives, we are, of course, still working on expanding our options, but for now, you'll find we can deliver grilled veggie skewers, BBQ pulled jackfruit buns, meatless appetizers, inclusive sides and so much more!
Sides For Days…
Speaking of sides, did you know that Hog Roast Haltwhistle has a selection of side options for every occasion? Covering everything from light and leafy salads, and gourmet 'slaw to a range of hearty potato dishes and food items inspired by cultures from across the globe – you can trust us when we tell you, you won't be disappointed with the exhaustive collection we've got on offer.