At Hog Roast Shap we have a main course to suit everyone. We have dishes from a variety of cuisines, ranging from hearty British roast dinners to delicious vegetable and halloumi skewers! We love to offer a long list of dishes for you to choose from, although we know that this can sometimes make it tricky to choose your favourite 2 or 3 dishes when they all sound tempting. To help you out, we have listed our top 5 Hog Roast Shap main courses with a description of what makes them so delicious…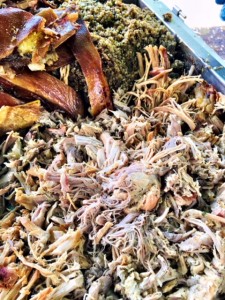 Whole Roasted Free-Range Pork
Our whole roasted pigs are a Hog Roast Shap favourite. They can either be slow-roasted or spit-roasted, with both options locking in natural juices and flavours to produce delicious pork, cooked to perfection. Our pork is served with homemade stuffing and apple sauce.
Juicy British Beef Burgers 
Beef burgers are a great option for summer parties and festivals since they cook quickly on our grills. The burgers we use are made from 6oz of 100% British beef, which guarantees quality and flavour. We recommend serving burgers with our selection of fresh and crusty bread rolls
Whole Roasted Sirloin Of English Beef
Our sirloins of English beef are brushed with mustard and cooked to your preference. We serve our steaks with homemade Yorkshire puddings and gorgeous rich, red wine gravy. Sirloins are a great option for formal, sit down meals, although they are delicious in any setting!
Fresh Grilled Vegetable And Halloumi Skewers
This dish is our most popular vegetarian option, packed with nutrients and flavour. Our skewers are served with wraps and a selection of dips, to maximise the flavour.
Topped Jacket Potatoes
Jacket potatoes are a great crowd pleaser since they can be served with a variety of different toppings. We can offer BBQ jackfruit for vegan guests, as well as classics toppings such as beans, cheese and creamy butter.
We hope that these delicious dishes sound tempting to you! If you have an event that you need catering for, why not get in touch with Hog Roast Shap today. Simply let us know your date, party size and location and we can start planning your perfect menu.