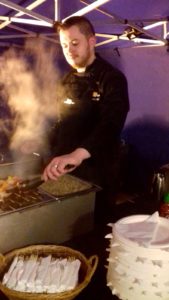 Hog Roast Carnforth is lucky to have joyous James as its catering manager! James has been a chef and involved in the catering industry for two decades bringing a vast amount of knowledge and experience to the table when it comes to Hog Roast Carnforth events. Throughout the years James has had many achievements, one of his favourites is coming runner up in the national food and drink pub of the year award. James's passion, great food and friendly service will be a happy memory of your event for years to come.
James has been with Hog Roast Carnforth for a few years now so let's look at his experiences:
Which venue has been your favourite so far?
"I do not have an ultimate favourite venue, but the two of my top favourites have been the Low Hall and Park House Barn in Milnthorpe and Coniston Copper Mines, both are absolutely stunning and based in the heart of the lakes, you cannot get better breath-taking surroundings then these"
2. Have you served anyone famous? 
"I am yet to have the pleasure of serving anyone famous through Hog Roast Carnforth, however during my career I have served the likes of Kerry Katona, Tyson Fury, Mark Owen and Kevin from Coronation Street" 
3. What has been your funniest moment at an event?
"We were waiting for the bride to arrive at a venue and of course they are meant to be fashionably late as tradition however, her bridal car had broken down! She arrived late in her neighbour's tractor! It was the only alternative she had, and it was brilliant!" 
4. If you were a customer, which menu would you choose?
"Definitely the Southern-Slow Roast, the selections are incredible, and food is so flavourful and fun to prepare!" 
James is an awesome chef who takes pride in the menus and dishes he provides, why not book with Hog Roast Carnforth for this summer's celebrations and have the pleasure of tasting his delicious food and experience his professional service?