Sunday evening we were out catering for an engagement party with Hog Roast Keisley. The party was being held in the local public hose and we were asked to cater for 300 guests. When we arrived we chatted to the landlord of the public house it was his son and his girlfriend who were getting engaged. The tables were already set and the back room filled with streamers and decorations for the happy couple all we had to do was cook!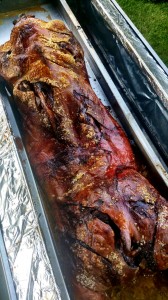 We carried the pig in from the van and placed it on the machine the pig was soon spinning away and the focal point of the party we thought people are always intrigued when we cook a pig, as many have never seen them cooked that way. We use our state of the art hog roasting machines to cook the meats and they are fantastic machines. To accompany the pork we made a large bowl of applesauce and some stuffing too. We cook everything from scratch for each job making that little bit extra effort makes all the difference. We then set about making some vegetable skewers so tasty and take minutes to cook. Lots of salad vegetables were placed in bowls and spread around the tables with an array of dips we made a honey dip, garlic dip and a spicy dip. We placed some large fresh buns on the tables for the guests to make sandwiches with the pork and just as the meat was cooked the guests arrived. They were, as we knew they would be fascinated with the sight of the pig and lots of guests were taking pictures.
The guests all gathered and watched as our chef removed the crackling and then cut the pork into slices. The pork was so moist and juicy and just melts in the mouth some people think of pork as dry meat but our pork is never dry as is none of our meats always tender. The happy couple came over to us all smiles and said the guests all loved the Hog Roast Keisley food and they said it was the best pork they had ever tasted.