When UK based American couple Suzie and Ray realised that they wouldn't be able to travel back to the US to spend Thanksgiving with their families this year due to work commitments, they were initially very disappointed. After living in the UK for 5 years, this would be the first time they would not be spending this special holiday with their loved ones. They soon rallied round however and decided to throw their own Thanksgiving party for all of their friends in the UK and give them a taste of how it is done on the other side of the Atlantic!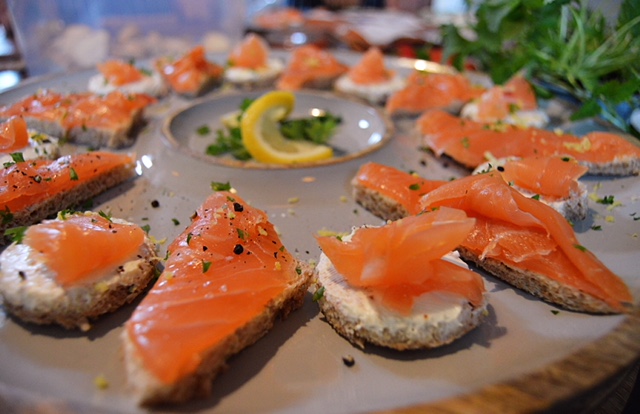 The sociable couple soon realised thought that if they wanted to invite the 100 people they were planning to, they would have to hire a venue and seek outside help with the catering. The venue part they didn't have a problem with, but they were struggling to find a catering company who fitted the bill. All of their problems were solved though when they got in touch with us here at Hog Roast Kirkby Stephen! We were only too happy to spend the afternoon treating Ray and Suzie and all of their friends to some of our fabulous freshly made fare and delicious slow roasted turkey served with fresh cranberries and sage and onion stuffing and accompanied by locally sourced seasonal veggies and rosemary infused roast potatoes!
As it was a special time of year for them, they also wanted to indulge everyone with a tempting selection of Hog Roast Kirkby Stephen's individually handmade canapes, including mini quiches, wild mushroom bouchées, tiger prawns and smoked salmon!
After being hard at work for several hours making everything from scratch, we were ready right on time to welcome the hosts and their guests and get the Thanksgiving party started! The atmosphere was great from the outset and everyone tucked into our menu very enthusiastically!
Ray and Suzie may not have been able to celebrate Thanksgiving with their family as they wanted, but they had a fantastic time with all of their friends and they absolutely loved Hog Roast Kirkby Stephen's food!