A local farmers market in the area is becoming something of a very regular client for the Hog Roast Reeth team, and we were delighted to be contacted by them for a third time to ask us to do the honours once again by providing some of our awesome hog roast sandwiches for the stallholders and attendees! When it comes to hog roast catering in the local area, our reputation for the unrivalled quality of our pork certainly  precedes us, which is why the organisers of the market got in touch with us in the first place, and after how popular our slow roasted pork was the first time, they knew that our reputation was definitely well-deserved!
Here at Hog Roast Reeth, we love catering for events of this nature, as we feel like we are surrounded by kindred spirits who are as passionate about superior homegrown produce and locally sourced ingredients as we are! In addition to the fabulous hog roast feast we provided for our diners at the farmers market, the quality of all of our ingredients was another major reason why they keep asking us to return. Just like the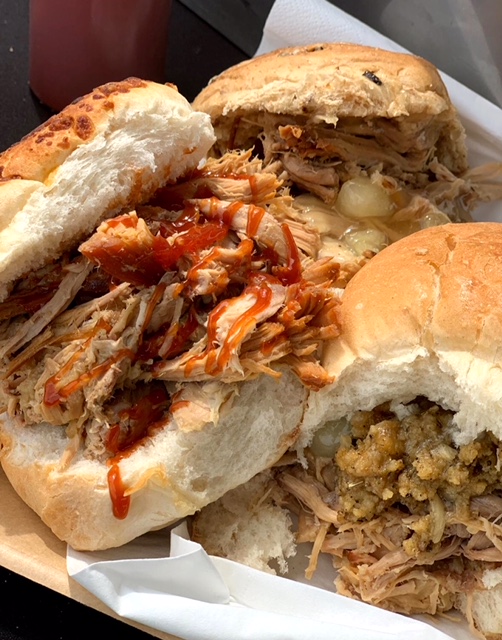 stallholders at the market, we never compromise on the quality of our ingredients or on the standard of our ethically reared meat. Both the event organisers and our diners alike all seem to agree that our food is the perfect complement to the day and our ability to slow roast whole pigs to perfection on-site is always met with great enthusiasm!
Things were a bit different when we arrived on site for our third time catering for the farmers market due to reduced attendance and social distancing measures in place, which of course we strictly adhered to at all times too as well as having our own stringent measures in place to protect our diners and our on-site team members.  But that didn't alter the quality of our mouth-watering hog roast sandwiches with apple sauce and crunchy crackling or how much our diners enjoyed them! Even with a lower turnout than normal, those who were there had a great day and of course, some great slow-roasted pork courtesy of the Hog Roast Reeth team!