Love may have not necessarily been in the air, but the tantalising aroma of slow-roasted pork certainly was, when Hog Roast Whitby were asked to cater for a Singles Night recently! The singles night was a new idea for pub landlord Laura, and she wasn't sure how successful it would be. For their first attempt, she wanted to do something extra special to attract local singletons to the event, so she decided to hire Hog Roast Whitby to help with the matchmaking with one of our awesome hog roasts! She chose us because she had always thought hog roasting was a very sociable way of cooking, because it is so unhurried and gives people the opportunity to gather round and chat whilst the meat is slowly -roasting. She also felt our hog roast machine would be a bit of a talking point for everyone, to help them get over their initial awkwardness!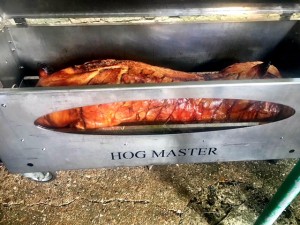 Laura was right about this, because as people started to arrive and scanned the room shyly, the site of our Hogmaster and smell of the meat made everyone gravitate towards us and strike up conversation! We always adapt our service style to suit you, and if you would rather we stayed behind the scenes, that's fine by us, but we also love being in the heart of the action and getting people involved. We can't get enough of hog roasting and we are always eager to educate our diners about what we do!
As our chef carved the tender meat and it was ready to be served, the conversation in the room gathered momentum and the flavour of our hog roast continued to be a huge talking point! Our informal buffet service allowed everyone to enjoy the food but still be free to mingle, which was of course what the night was all about! With lots of conversations had and a few phone numbers exchanged, Laura felt the evening was a great success and she thanked the Hog Roast Whitby team for helping her get people in the mood for romance with our high-quality food and sociable service!