When it comes to catering a special occasion, Hog Roast Lake District is a wise choice, and not least because we cook and serve tasty food that you and your guests will all love. We're highly flexible when it comes to your choice of food, which is why we encourage you to create your own menu for your party or event, and we offer various options other than hog and spit roasts, in case you have any guests who prefer to eat other food, or who need to due to dietary restrictions. All of your guests will be able to enjoy our food, as long as we have advance notice, as we can cater for vegetarians, vegans and those with a gluten intolerance or allergy, and other diets too.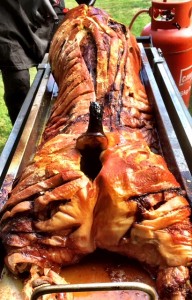 For Kane and Melanie's housewarming party, Hog Roast Lake District was recently asked to cater mainly with our sumptuous pigs in buns but also with a vegetarian option and a gluten-free option. The latter is never a concern for us, as we have been providing a gluten-free option for years, and the couple were surprised when we said that our pigs in buns are suitable as long as we bring along suitable bread rolls for those guests too. We serve our pigs in buns in a variety of fresh bread rolls and wraps, and ensuring that gluten-free guests could also enjoy them is our pleasure.
When it comes to vegetarian options, Melanie asked us about our various choices, and was happy for us to grill our popular veggie kebabs, which feature chunky pieces of halloumi cheese in addition to vegetables such as tomatoes, courgette, red onion, mixed peppers, and mushrooms, which we serve with pitta bread and a tasty tzatziki dip.
On the day of the housewarming, Hog Roast Lake District arrived at Kane and Melanie's home and set up our equipment in the back garden. Hours before we would serve the food, we were busy preparing and then roasting the meat, and watching over it as it sizzled away under the sun. By 1pm, the guests had all arrived and were clearly looking forward to a lovely feast, and we made sure it was.