A warm summer's day, friends and family with you, a beer in one hand and a hog roast roll in the other; could life really get any better than this? That's exactly what our new customer Joshua told us when we catered for his birthday party at the weekend and we have to agree, really – especially the bit about the hog roast roll, of course!
Our 'pig in a bun' special is what Joshua asked for when he booked us to cater his 40th celebration with a hog roast in Skelton. In a nutshell, a pig in a bun is what it sounds like – pork in a bread roll – but the way we make it is the magical bit. Right in front of you and your guests, the pig is lovingly prepared by a chef such as myself and then cooked for hours, slowly but surely, until the inside is juicy, moist and tender and the outside is golden, crispy and salty. If you've ever tried a hog roast of ours before now, I bet your mouth is watering at the thought! If you haven't yet, I'm sure your taste buds are begging you to hire our catering services so you can see what everyone's talking about.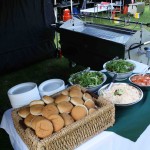 As well as the hog roast rolls, Joshua ordered a couple of salads (which we always prepare fresh at your venue). On Sunday, our team set off in the morning to the venue of a local park, equipped with our hog roast machine, a gazebo, and a nice, fat pig to feed 50, as well as the extras we needed. We always provide a variety of sauces in addition to our special, tangy apple sauce, and our lovely, homemade stuffing. They are always a triumph at parties and events that we cater and we've often been told that we should market them to sell on supermarket shelves.
We roasted Joshua's pig for a few hours, until it was done to perfection, and as it was resting before we started to carve, the guests started to pile into the park. They all knew exactly where the party was being held – they just had to follow the amazing smell! It was finally time to get our carving knives out and serve the hungry hordes our delicious hog roast in Skelton.