We recently catered for a private party with a bit of gambling theme – namely, a birthday poker tournament. Poker seems to have grown in popularity massively over the past few years. Several years ago, I  hardly knew any people who played the game, whether online, in a casino or even just a friendly game of cards at home, but that's all changed now. For this party, which was to celebrate Rick's 30th birthday, we met up with his girlfriend Jo who was organising it all and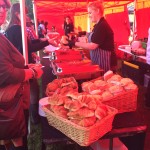 Jo had called us to ask about different options, as she wasn't sure if she wanted to hire a machine to cook the meat herself or to ask us to cater for her instead. We visited Jo at home in Lindal to talk her through both options, including the different prices, how to roast an animal yourself and also what we could do for her as caterers if she preferred. It became clear that she really wanted to spend more of the day focusing on Rick and the poker, so the decision was made for us to provide a simple hog meal that we would roast at the venue on the day, and we would bring salad and potato options too. Being a long-time poker fan and player, I couldn't wait for this event!wanted a Hog Roast in Lindal to celebrate.
Rick's birthday celebration was held at his local cricket club, which has a nice size room for catering, but ventilation-wise the hog would have to be cooked outside. We set up the gazebo and prepared the nice fat pig by scoring it and covering it in salt. Then it was a matter of keeping an eye on the cooking meat while the party was being arranged around us and inside. As usual, we brought salad items with us to freshly prepare at the venue on the day, as there can be nothing worse than a wilted salad that was made the day before; we've seen other companies do this, thinking it will save time, when in reality all it will do is just turn people off from booking you again.
There was a break in the poker play and hungry guests poured outside to fill themselves up with our tasty pork, fresh rolls, apple sauce, stuffing, crackling, new potatoes and lots of lovely salad. At the end of the poker, the happy winner (who just so happened to be the birthday boy, Rick) received an extra pig in a bun as part of his prize! It was a lovely event, topped off with a special Hog Roast in Lindal.