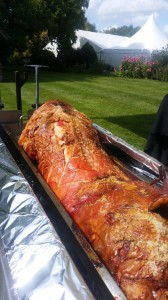 Hog Roast Brigsteer has some exciting news. A brand new, sophisticated potato option has been added to the menu… get ready for a potato option with a difference. Here comes the heavenly Dauphinois potatoes!
A scrumptious creamy and rich side dish for you and your guests to indulge on. It is a French dish originating from the Dauphine region in South-East France.  It uses the well-known gratin technique. It's something different for Hog Roast Brigsteer to include on the menu as well as something different for your guests to try.
How does Hog Roast Brigsteer make it? The catering manager wanted it to be completely rich and indulgent so therefore uses double cream to make it that much more heavenly. First, peel and slice the potatoes. The best potatoes to use are Maris pipers!  Do not rinse, you want the starch left in them so that it absorbs the cream and let the potatoes crisp up slightly. Put them to the side and start on the sauce. Dice the garlic and Spanish onion before popping them into a pan for 30 seconds. After the 30 seconds is up, add in the double cream and bring to a boil before popping it on a simmer to season with salt and pepper. Once seasoned, add the potatoes and ensure that the potatoes are all coated with the creamy sauce. Now the dish needs to be poured into a baking tray and smoothed out. Cover the mixture with baking paper and put it in the oven for 20 minutes on 180 degrees Celsius. After the 20 minutes take the baking paper off and then place it back in the oven for a further 20 minutes. The perfect Dauphinois potatoes.
Hog Roast Brigsteer's Dauphinois potatoes particularly compliment the roasted sirloin beef and spring lamb on the wedding menus. Nevertheless, it can be enjoyed with Hog Roast Brigsteer's whole roasted pig or even chicken.
Book now for this enticing new treat!