If you want to seriously impress your guests with the catering service at your party or event, the grand spectacle of a hog roast in Haltwhistle centrepiece is the way to go. Hog roasts are gaining more and more popularity every year and they're not only for big or lavish events and they are not only suitable for weddings – you could have one for any kind of occasion that you can possibly think of, like after a christening or for a hen do and you could even have a hog roast in your back garden for a handful of guests if you like.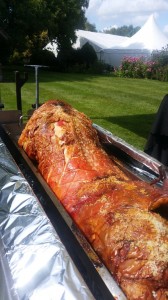 Marianne recently booked us for her twin daughter and son's 14th birthday party. Birthday party hog roasts are very often held at the weekend but Marianne wanted the hog roast Haltwhistle on their actual birthday, which was a Tuesday in the school holidays. I arrived in the early afternoon to roast a hog for several hours, so that I could serve it to family and friends for their tea. This was an intimate affair, with 12 guests altogether, so I could cater this by myself. We use hog roast machines that we designed and that we build ourselves and they are ultra-mobile, so I was able to transport the equipment and small pig easily.
After setting up the gazebo, hog roasting machine and serving table in the manicured back garden, I chatted to the twins while I prepared the meat, as they were interested in finding out how to cook such a beast. I started by scoring it diagonally from one end to the other, covered it in water and then smothered it in salt. Then I just needed to keep a watchful eye on it as it slowly roasted. As I did so, Marianne decorated the garden and the twins chose the music they wanted before the guests arrived.
Once the pig was ready, I turned off the machine to let it rest for half an hour. As I sliced the bread rolls and put out our lovely apple sauce and stuffing, the guests wandered through the gate to the back garden and all mentioned the wonderful aromas filling the air around them. Just wait until they tried the meat that smelled so good!