A Hog Roast Dent affair is one filled with fresh, homemade food that's prepared, cooked and served by professionals who love what they do and who strive to help our customers have parties and events that go with a bang. At any time of year, in any type of weather, and with any numbers of guests invited, our highly-trained and experienced chefs and catering assistants will always go the extra mile to give you the service you expect and so much more, as we aim to not only please but to exceed your expectations and those of your guests.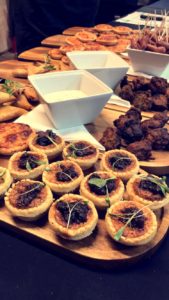 Whether you're organising a formal special occasion with hundreds of guests and which you want to feature delicious posh nosh across multiple courses or if you're planning a casual get-together with just a handful of people, with simple albeit truly tasty food, Hog Roast Dent are the ones to call. We've spent many years perfecting our menus, and you'll see not only the hog and spit roasts that we're renowned for but so much more too, in case you want us to provide options for special diets, alternative dishes for carnivores like marinated or barbecued meat, or additional dishes like starters, desserts, sides or canapés. We offer something to suit just about every palate and appetite, and with special menus like our winter warmer, Southern Slow Roast or loaded fries, or a hog roast to die for, you can wow your guests while we do all the hard work.
Hog Roast Dent recently catered Gail's private party at home with friends and family, where she had asked us to cook a traditional centrepiece hog roast for thirty guests so that we could make our pigs in buns for everyone. On the afternoon of the party, we turned up on the dot and set up our equipment in the garden and despite the wind and rain, before long we had a great beast sizzling away.
By early evening, we had scrumptious meat and crackling aplenty, as well as our homemade stuffing and apple sauce, fresh bread rolls and wraps and all our condiments and serviettes, and it was finally time to serve up some cracking grub and no one worried one bit about the inclement weather.