When it comes to parties and events, Hog Roast Blackpool is more than a dab hand at serving gorgeous food that's been prepared and cooked by consummate professionals who are dedicated to providing nothing less than a first-rate service. We've spent many years doing so and our knowledge and experience both mean it is hard for others to match let alone beat our catering services. What you may not know about us is that we can provide so much more than our name suggests, regardless of the type, formality or location of the social occasion you're planning. If you would like a hog or spit roast and nothing else, we can do that. If you'd prefer to add sides, starters, desserts or even a drinks and canapés service, we can do that too. And it may surprise you to know that if you need special diets covering, we can even do that as well.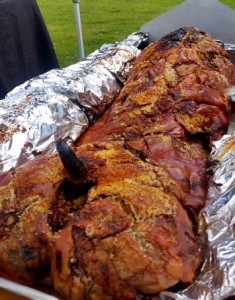 Some time ago, our new customer Ricky asked Hog Roast Blackpool to cater a kids' party at his home for Halloween. For his 11-year-old daughter and her friends, as well as immediate family members, we would be roasting a hog from scratch at his home in order to make our succulent, mouth-watering pigs in buns. However, before Ricky booked us in, he needed to know that we could provide an alternative for one of the guests, who was gluten-intolerant. Ricky wanted to ensure that everyone would be well-fed at this party, so asked us what we could do…
In terms of gluten-free dishes, we can certainly provide an alternative dish but we also let Ricky know that guest could still enjoy our hog roast rolls as long as we provided suitable bread rolls. The other pigs in buns ingredients of ours – juicy meat, crispy crackling, our own recipe apple sauce, and homemade sage and onion stuffing, are all already suitable.
On the day of the Halloween party, Hog Roast Blackpool arrived at the venue hours before service and set up our equipment in the back garden before preparing and cooking the hog. Once the meat was perfectly cooked, we served the gluten-free guest first and then it was time for the rest of the witches, demons, and vampires to dig in too.