Hog roast catering is a big part of what we do, but we also hire out and sell our high-tech and fully-functioning hog roasting machines for those of you who don't mind getting your hands dirty when it comes to catering for your event. The equipment we sell is to the same high standard as the machine we use for our jobs, and if people like ourselves who have extensive expertise in hog roasting use it, then it's more than adequate for everyone else who fancies themselves as a hog roast chef. If you'd like to purchase hog roast machines then visit our dedicated website.
If you're hosting a community event, such as a gala or a street party, and you want to impress everyone by showing your prowess as a chef, then hiring one of our machines is the best possible way to wow them. As the meat is on display while roasting the whole time it's cooking, it looks great and will make everyone present want it even more than they would like freshly-grilled meat from a barbecue, and it gives you scope to marinate or glaze the meat using a sauce or dressing
Take Up Hog Roasting Yourself
Hiring a machine is perfect for many different occasions other than community events as well. If you're a tourist and staying in a medium or large hotel with dozens of holidaymakers, and you want to become friends with them all, then roasting something on a hired machine is a great way to break the ice. You'll receive plenty of compliments from all those you've cooked for, as there's very little chance of messing up when using one of our machines because they're so easy to use. Having your own D.I.Y. hog roast barbecue in the spectacularly hilly environs of the Lakeland area is an experience that can't be beat, and all it takes is hiring a machine from us and buying whatever meat you desire.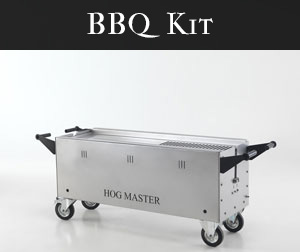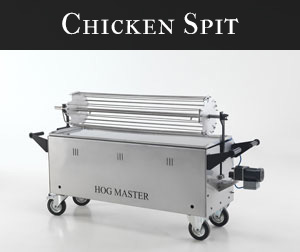 If you're a local hotelier who wants to provide more than just bed and breakfast by persuading your customers to have lunch or dinner in your hotel, then perhaps you would like to buy a hog roasting machine from us for repeated use. Although the name suggests that our machines are best used for roasting pigs, they are quite versatile.
I know you've probably heard it said an infinite number of times before, but isn't the Lake District such a beautiful place? It boasts some of England's highest mountains, lovely local towns such as Windermere, Cockermouth and Ulverston and, of course, a handful of fantastically tranquil lakes. Unsurprisingly, millions of people from the UK and beyond visit this part of Cumbria, but the area towards the Irish Sea is just as nice, and a great place for a feast.
Aside from Kendal Mint Cake, food from this part of Cumbria isn't that well known, at least until you've sampled a hog roast from us. For many a year, we have served the good people of the Lake District and the Furness Peninsula at get-togethers for families, friends, businesses and community groups, and have thoroughly enjoyed doing so.
These not only include our famous hog roasts, but you can also choose to have chicken, beef, lamb or any other BBQ food on your menu. It really is all down to you.
[peekaboo]
[peekaboo_content]
You really do need to experience a slowly cooked hog roast for yourself to truly understand just how mouth watering and delicious it is compared to regularly cooked meats. Even the side orders such, which again are all down to you, are equally delicious. It doesn't matter if you want coleslaw, home baked bread rolls or apple sauce, we promise to only provide you with the finest food on all our menus.
Our highly professional and skilled team will arrive at your Penrith hog roast event hours before it is due to begin to begin setting up. We arrive fully sufficient to give you piece of mind and let you get on with organising and enjoying the rest of your event. All of the team are all fully trained in handling, preparing, cooking and serving food so you will always get a first-class service when you chose us to cater for you. We will even discreetly clean up all the mess afterwards, so you really do not need to worry about a thing when you choose hog roast Cockermouth as the company to cater for you next event.
So have a look around the website or give us a call to see what we can do for you. We are sure that you will not be disappointed and discover why we have so many returning customers coming back to us to cater for their events time and time again.
Spitting Pig Northern UK hire division specialize in the hiring of hog-roast machines as well as LPG Griddles ( ideal for BBQs etc ) LPG Cookers and water boilers which are very much in demand from our regular hotel clients that like to offer an outside catering option .With these seasoned hirers it is a simple case of delivery and collection but what about the first time hirer etc ? No need to worry as Spitting Pig Northern have a unique pre-hire service that all new clients receive that includes a comprehensive guide to prepping –cooking and suggested serving techniques which leaves even the most amateur cook confident in their abilities.
With private hires we find that sending an experienced team member with the machine to help set up even to the point of setting the cooking process off leads to a highly delighted client on collection of the machine . An additional hire option service that we launched for 2011 was a ' cook & carve ' which means that we send one member of our team to cook on the clients premises and then encourage one or two to help with the service as they carve and this proved popular with clients that were nervous or unsure about tackling a hire on their own.
Golfing is one of the most popular activities in the world. Golf outings are also a great way for a charity or organization to raise funds. Many people who don't like to go to fundraising events are more than happy to take part in a charity golf event. This is also a great place to lease out you hog roast machine. Although some golfers go out year round, golfing is for the most part a warm weather activity. Organizers of charitable golfing events want to bring in the maximum amount of participants so the fundraiser will be a success. This means not only setting up the rounds of golf, but also a meal at the end of the day.
Your hog roast machines for hire can offer a delicious alternative to the regular golf club menu. One of the features of a golf course is their outdoor areas which can be used for parties. Organizers of charity golf outings can use your hog roast machine hire out business to bring the dinner outside and treat their guests to a buffet. Golfers can leisurely walk around and meet and talk with the other participants. They can also marvel at the food cooking on your hog roast machine, and anticipate the delicious meal to come.
In addition to serving a great meal after a golf outing, your hog roast machines for hire can also be a great promotion for your own business. While the golf outing participants are enjoying your foods, they are also getting ideas for their own parties and events. They may have a graduation or other family party coming up that could use your services. There will likely be plenty of business people and entrepreneurs who can envision using your business for a grand opening event or to launch a new product. There may even be those who are interested in using your hog roast machine hire out company for their own charity fundraiser.
One of best parts of a roasting machine business is that there are all kinds of markets eager for your services. We can help you get the right roasters and equipment for your company, no matter how large or small.
[/peekaboo_content]