Straddling the River Eden, Armathwaite is a popular spot for salmon fishing and the starting point for the Cumbrian River Festival, which takes place every summer. It is also home to Eden Gorge, an unspoilt stretch of water and woodland, which is now inaccessible to the public. Water seems to play a prominent role in all aspects of life in Armathwaite and the area is known for its production of local mineral water.
If you are a fan of local fare, then you will love Hog Roast Armathwaite's food. We use only the finest locally-produced ingredients in all of our dishes from suppliers who utilise the most ethical methods. We always do our fabulous, fresh ingredients justice by incorporating them into varied, inventive menus and expertly preparing and presenting our dishes ,so our diners can enjoy every element to its fullest extent.
Great Food for All Occasions
 Hog Roast Armathwaite's catering team is comprised of the best mobile chefs in the area who combine knowledge, experience and passion for what they do into a winning formula that produces stunning results every time.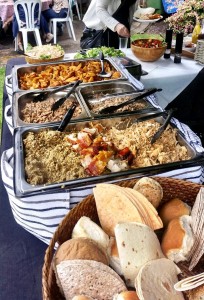 From our range of meats to our side dishes, vegetarian options, full 3-course meals and canapes, we always give it our all to execute your chosen menu to perfection and we can always adapt any element of it to meet the increasingly diverse tastes and dietary requirements of our diners. We can even treat you to our own stunning locally-sourced whole -roasted salmon, which is prepared using the same slow roasting methods all of our meat dishes to produce tender, flaky and flavoursome fish.
If you have a fun-filled riverside event planned or you are hosting a more tranquil gathering with a view of Armathwaite Castle in the background and you are in a quandary about the food, we are the ideal catering solution for events that are both grandiose and small in scale. We can give you and your guests an alternative dining experience to remember  and adapt our approach to fit perfectly with the theme and tone of our special occasion.
If you choose Hog Roast Armathwaite to do the honours on your big day, whether it be your wedding reception, birthday party or anniversary, we will treat you to great food in the location of your choice and follow your requirements to the letter.