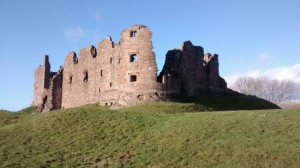 Located in the glorious Eden Valley at the foot of the North Pennines, Brough is an historic village that houses the remains of a Norman Castle. It is situated on the former Roman road connecting Carlisle and York, and in the 19th Century is most a popular resting place for travellers and had 10 coaching inns to accommodate them all.
The Hog Roast Brough team have also spent many years providing a warm welcome and some great food to visitors and locals alike with our premium hog roasts and fresh, locally-sourced ingredients for lots of different celebrations in the area.
Great Food for All Occasions
Hog Roast Brough are the ideal choice for large outdoor events thanks to our ability to transport everything we need to any location in Brough and treat a large crowd to fabulous, freshly prepared food. We would be the perfect culinary accompaniment to Brough's annual agricultural show and regular farmers markets, not only because of our talent for making a lot of people happy with our hog roasts, but also because we are also huge advocates for fresh, locally-grown ingredients.
We always source the best local produce for all of our dishes and you won't find fresher food or better quality meat than ours in the area. We take great pride in our commitment to quality and  we never cut corners in the selection or preparation of any of the ingredients we provide. We always prepare everything from scratch at your venue in front of your guests, regardless of how many people we are feeding or where we are cooking.
We aren't just great at  doing large buffets either. We have an increasingly varied range of menus which are continually being developed and we can provide formal 3 courses meals and canapes for wedding receptions, corporate entertaining and more formal private parties.
Our hog roast machines and catering team have the adaptability to cook at indoor venues as well and our streamlined set-up means we won't take up too much space, even in smaller venues. The Hog Roast Brough team have the ability to change our service style to meet your requirements exactly and we can present the food as an attractive buffet for your guests to help themselves, or provide full table service with our own highly experienced waiting staff.