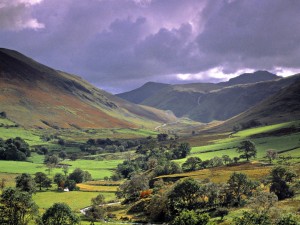 We have been hog roasting in Cumbria for quite a few years now and have been impressed at how well Cumbria has taken to us providing us with a friendly place to do hog roast Cumbria catering in. We are very happy that we came to the decision and decided to hog roast in Cumbria due to the fact is has been an absolute pleasure it is one of the most beautiful places in the UK and attracts a lot of custom yearly which can only be a good thing when people are enjoying the service you are providing them with. Catering for hundreds of events such as; Weddings, Birthdays, Shows Days, Company events, Corporate events, Christmas catering, and many more.
We have recently had an event where we provided a company with a opening day so they contacted a number of catering business and got in contact with us and we was delighted to cater for them, they wanted a variety of different catering companies to cook up their dishes for the company workers and their family and friends.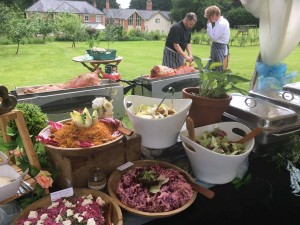 Being hog roast Cumbria caterers we are exceptionally busy during the summer months with sometimes 10-15 jobs booked in a week for parties and family gatherings however over the winter months the hog roasting scene seems to die down a little however over the past couple of years hog roasting is more popular than ever and myself and my tem find ourselves catering for birthdays, christenings and corporate events and also weddings throughout the summer months too with around 5-10 jobs a week we are as busy as ever.
We had clearly only had one choice and that was a hog roast with fresh Bramley Apple Sauce with Stuffing accompanied by the hogs own crackling.
That sounds so delicious we hoped everyone would try some and love it. We set up along side a Kebab stand who was obviously selling Kebabs. We began to roast our hog with our hog roasting machine and decided we would spit roast one so the customers can see the visual effect and be wowed buy a slowly roasting pig rotating away to perfection.
The pig was near to being carved up and there was a queue already being formed they could sense it was nearly ready or it was because we told them it was whichever way they was patiently waiting in line glaring at the pig, watched us as we get to pig out and put it into serving position all the while the queue was getting bigger and bigger. We carved up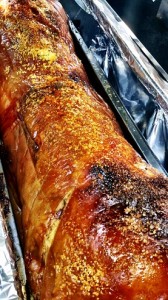 the meat and the aroma dashed out into the air like a volcano, filling the noses of the waiting customers with delight there mouths began to water, seeing and smelling the pig was getting to much to bare they just wanted it in their hands and to taste the glorious pig.
We carved up, neatly placed in onto a soft floured bun, drizzled our fresh Bramley Apple Sauce over the pig which has been covered in salt to perfect the crackling to be crispy and tasty by favorite thing about hog roasting I might add, a chunk of Stuffing topped it off with the top of the soft bun with some crispy Crackling on top. It really did look amazing; I feel we presented the masterpiece with perfection. When we gave the masterpiece out to the customers it was like giving a child a big lolly pop, or loads of chocolate, their faces were of pure amazement and delight then they began to eat the Pig in a Bun. We continued to served out our beautiful Pig in a Bun's and the queue got shorter and shorter then built up again and it continued like that until eventually there was only a few left since the event was closing. hog roast hire Cumbria where widely complemented on grand service and delicious food.
After this event hog roast hire Cumbria got quite a lot of phone calls requesting they wanted us to cater for their event which was really great news as there is nothing more satisfying than a repeat booking or an enquiry that has come from someone that has tried your food it gives you the feeling that you must be doing something right with your catering as a pig roast Cumbria chef, it gives your clients the reassurance that you know how to satisfy all with your food a great feeling indeed.