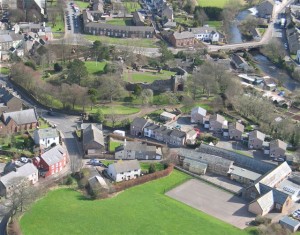 I have been a hog roast chef for almost 15 years now and I have never had to cater for such a bunch of lunatics as my most recent job in Egremont at the world gurning championships! When this job came up I had no idea what the concept was or what I was going to witnessing at this supposed 'championship' Over the years I have seen many bizarre festivals in the UK, I have seen people get together and chase a big piece of cheese rolling down a very steep hill and almost crippling themselves in the process but this one has to be one of my new favourites. Held annually, the gurning championships are a big hit with the locals, it brings in plenty of tourism which; Egremont relies upon. For those of you that are unaware of what a gurn actually is, it is basically the strangest face you can pull without the use of drugs or equipment! One young chap who attended told me that the best gurns can be achieved by sucking a fresh lemon and lime together at one time!
After watching this lunacy take place and attempting to prepare a hog roast Egremont in the middle of it all, I couldn't help but watch in sheer hilarity at some of the faces the contestants would pull in order to get a good score from the judges. Gurning wasn't the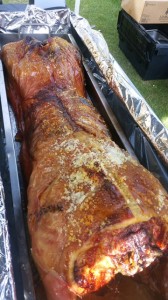 only entertainment on offer at the championships they had an extraordinary brass band! I do love a good brass band at this time of year. One diner told me that his son was playing the tuba you could certainly see and hear him at the back, what a sound! The hog roast Egremont was organised weeks in advance and I was asked to bring plenty of hogs as the people here like to eat good food. I prepared three hogs in total and I decided on using three different types of marinades for each one. I did one with a sweet barbecue glaze and coca cola injection to sweeten up the flavour of the overall meat.
I then prepared a standard pork hog roast which has plain sausages inside and one pork and apple mix which; has an injection of locally brewed cider injected into the hog itself. These marinades and injections give many different dimensions to the overall flavour and make everyone want to try each one. I'm pretty sure that the clients at the hog roast hire Egremont would have tried all three regardless of what I had prepared them with! They mustn't have eaten for a month before the championships! Normally I am left with a fair bit of meat and the guests have gone home having had their fill and usually borderline comatose on the seating or back of a taxi!
Not hog roast hire Egremont fans, these people ate absolutely everything, there was not even a bun left for me! I normally get a little bit to take home but all the gurners and spectators just kept coming back for more, I must add that this is not down to over eating or dietary standards in Egremont but the sheer quality of the three hogs that I had roasted for Egremeont's local folk was second to none, there may not have been any left for me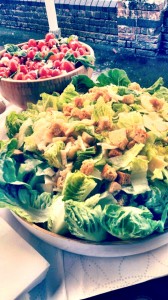 but I always sample my roasts first to ensure the quality. Before the pig roast Egremont, I learned a little bit about what happens in the area and what goes on there. I do this with all of my customers I feel it helps to have some sort of general understanding of the local area and the main attractions of the place itself.
Egremont is one of the few places in the UK that still has its own castle, Egremont Castle and it was built on the mound above the river Ehen, it was built following the conquest of Cumberland in 1092 and had further alterations made in the 13th century, today it stands as a ruin but is a great place to visit and get some good photographs, if you're into that sort of thing as I am!
The hog roast in Egremont is now a tale that I will never tire of telling, I have never met such an eccentric bunch and I just hope that I am invited back to cater for the gurners once again! They are the people that make my job so much more enjoyable and they have the best landscape too!