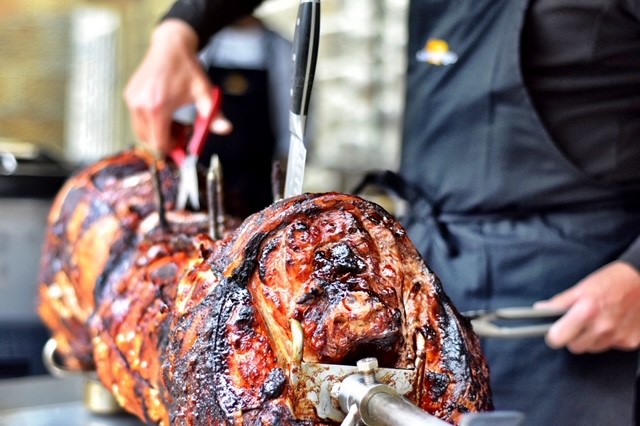 Hog roast is fantastic, and if you have never been to a hog roast Workington event then you either need to arrange one yourself or find some better friends because hog roast is delicious. Everything about being a hog roast hire Workington caterer is just superb. You get to be your own boss for starters, so you have to take control and really be a complete professional in all that you do. You also get to travel all around the Workington area, and even though I've lived here all my life, I still find new places to cater at and new people to wax lyrical to about hog roast.
I remember when I first trained up as a hog roast Workington chef, I used to think that surely some events aren't really suited to hog roast. I'd only ever seen hog roast served up at parties and pubs. I'd certainly never seen one served up at a wedding reception. How wrong was I. Guess I'd not been to many posh weddings because hog roast always goes down superbly at weddings. It does take a different approach from me and the serving is certainly different. I think I act a little bit posh at these weddings when I'm hog roasting. I even put on my telephone voice! Seriously, I love catering for weddings. Carving the hog roast and serving up beautiful slices of pork makes for a splendid looking plate of food. A carefully placed serving of apple sauce and some of my extra special crackling makes a masterpiece of a meal. Big headed, me? Too right. My gourmet hog roast is great.
Not that I am knocking the better known hot hog roast rolls, mind. These represent the bulk of my work and I have served more hog roast rolls than I care to remember. Rolls are the ultimate Workington party food to be fair. You can walk and talk while carrying your roll, cider in one hand and wine in the other. That's my kind of party food. And hog roast rolls do taste fantastic. Everybody seems to love them, from the youngest partygoers to the older generations who may sit out all the dancing (until they play Jive Bunny, unfortunately).
The Best Hog Roasts In Workington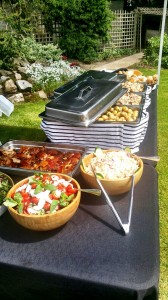 I cook my hog roasts on a great piece of equipment, unsurprisingly called the hog roast machine. When I first started hog roasting, I always longed for a time when I could one day cook a hog roast over an open fire, just like in Medieval times. That was then. Now I would not give up my hog roast machine for the world. It's my shop front, my kitchen, my office, my place to pose…you name it. I can control every little bit of the cooking on the hog roast machine and it makes cooking the hog roast so it is just right ever so easy, although easy does mean six hours cooking time.
People love watching as cook the hog roasts. A lot of people have probably never seen a hog roast in action, so to speak, so this is something of a novelty for them. It looks great, mind. Walking into a venue and seeing a beautiful roasting pig cooking away looks really special, and then you breathe in and take in those intoxicating hog roast aromas, well, the damage is done then. The wait to eat your hog roast is painful, but worth it.
A rugby league footballer, that's what I always wanted to be when I was little. I loved rugby at school and, with my dad taking me to see Town every home game, I was almost destined to play the game as a professional. Only problem was that I was not very good. 'You're a bit too skinny,' were the words used to describe me when I went for youth trial. 'You need some meat on you, young lad'. Oh well, dreams shattered I decided to pursue careers elsewhere but five years ago following redundancy (a frequently used word in these parts) I saw an opportunity that seemed perfect. No, it wasn't a recall to Workington Town for a trial for the seniors but the chance to become a hog roast hire Workington caterer. Sounded brilliant and I have been serving the twenty something thousand people of Workington ever since with my top quality hog roast. I love being a hog roast hire Workington caterer. Okay, so I'm not a rugby league professional, but they told me to put some meat on, and that's exactly what I did. I just put it on the hog roast machine instead.